My aunt came to the UK in the late 60's with her husband. They settled in Brick Lane, East London which wasn't known for its Bangladeshi curry houses back then, but for its textile factories (mostly owned by Jews who had immigrated there a century or so earlier). There were hardly any Bengali women – nearly all were young males in their early 20's looking to support their families back home and then finally go back to settle once they had made enough. Effectively it meant a lot of hungry young men roaming the streets after work looking for decent Desi – style home cooked food/ snacks.
My aunt saw this opportunity and convinced her husband to rent the shop below their flat. Initially as a small cafe, they opened in 1971 and named it 'Nazrul' after the famous Bengali poet.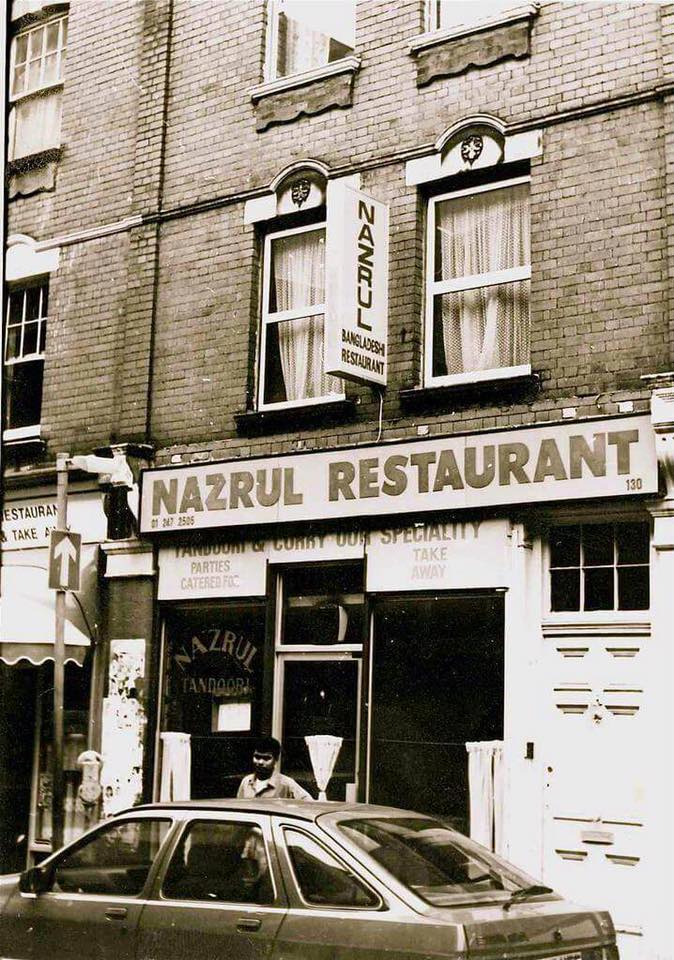 My uncle would run the cafe whilst my aunt would wash, peel & cut the vegetables so they didn't have to hire extra staff. She also took on work sewing leather jacket linings for the local factories. All this was in addition to her cooking cleaning and the doing housework.
After a few years, the landlord (a friendly Jewish man named 'Mr Fox') offered to sell the entire property including the cafe. My uncle, ever the cautious man, refused. After some persuasion from both the landlord and my aunt, he agreed. They paid Mr Fox the equivalent of £50,000-£75,000, the bulk of which my aunt had saved from her second job.
They changed the cafe into a restaurant and alhamdulillah it went from strength to strength. From this small, rusty cafe in Brick Lane my aunty managed to build a small empire back home in the space of two decades; magnificent villas, shopping mall in downtown Sylhet in Bangladesh to multi-storey apartment blocks. But their greatest achievement is their humanitarian work. They helped build countless masaajid, madrasahs & orphanages. And they never turned away a person in need. People turn up outside their house at the crack of dawn right up until sunset knowing that there was a fair, generous lady who would listen to their woes- whether it was a medical need or something simple like wanting help to get their daughter married off.
Whenever she see's me, she tells me I'm her favourite nephew and sneaks £20 (£50 when I'm lucky!) in to my pocket saying "Ssshhhh… don't tell anyone"… She doesn't want to hurt anyone's feelings. She bought me my first proper mountain bike and every Eid she makes sure we all have new clothes. She is my mum's older sister but she's more like a mother to her, and me. She keeps the families together like no one I have ever seen – we all have to gather at her place every couple of months at the very least. She was our Godfather – she commanded love and respect but also fear- none of us dared look in to her eyes when she was angry.
Earlier this year, my aunt called everyone together for a meeting. She wanted to distribute her wealth amongst her two children, and also to various charities and relatives (my uncle passed away several years ago making her the sole heir). She didn't want to die and for her children to squabble or stop funding the various projects she had started. So in front of myself and a couple more witnesses, she drew up her list and carved up her wealth- wealth she spent her entire life building gone in a few minutes. But this was what she wanted.
She knew money didn't mean a thing- what was important to her was her relationship with Allah and the people. She kept saying "I don't know how long I'm going to be here" almost like she knew something we or the doctors didn't.
She never missed an opportunity to remind me about salah or reading the Qur'an- and she would always mention the importance of charity… about its blessing. My aunt is living proof that giving sadaqah increased your wealth. I honestly think Allah made her successful because so many people are dependant on her.
On Saturday, my beloved aunt returned to her lord ? She leaves behind 2 children, 11 grandchildren and a legacy very few will match. A woman who for us was the equivalent of 100 men. When my grandfather sent my aunt to high school, the village people would mock him and jokingly ask whether he was trying to turn her into a boy; girls didn't go to school back then or have the need to read and write. Only the sons had that special privilege.
Years later, these same people would fall at her feet and call her "our son". She done for them what a hundred sons couldn't do put together.
Please keep her in your prayers.