Blessings upon blessings this Ramadan
Both blessings and rewards are multiplied during Ramadan – and we cannot know by how much, or when. Doing a good deed or giving even a small amount of charity during Ramadan can bring big results. And so, it should be noted that it is wise to give at least a small amount of charity every day.
Ramadan is the month of the Qur'an but it is also a month of charity. Ramadan is a month where Muslims are more generous than other months of the year as rewards for good deeds are multiplied.
During Ramadan, we are inundated with fundraising appeals for various good causes around the world and sometimes it can be hard to decide which appeal to donate to. With this in mind, our friends at LaunchGood have for the fourth year running, launched their unique way of giving during the month of Ramadan, the Ramadan Challenge, 30 days of Giving.
The Ramadan Challenge allows you to donate any amount you'd like daily either manually or automatically to the various campaigns on LaunchGood.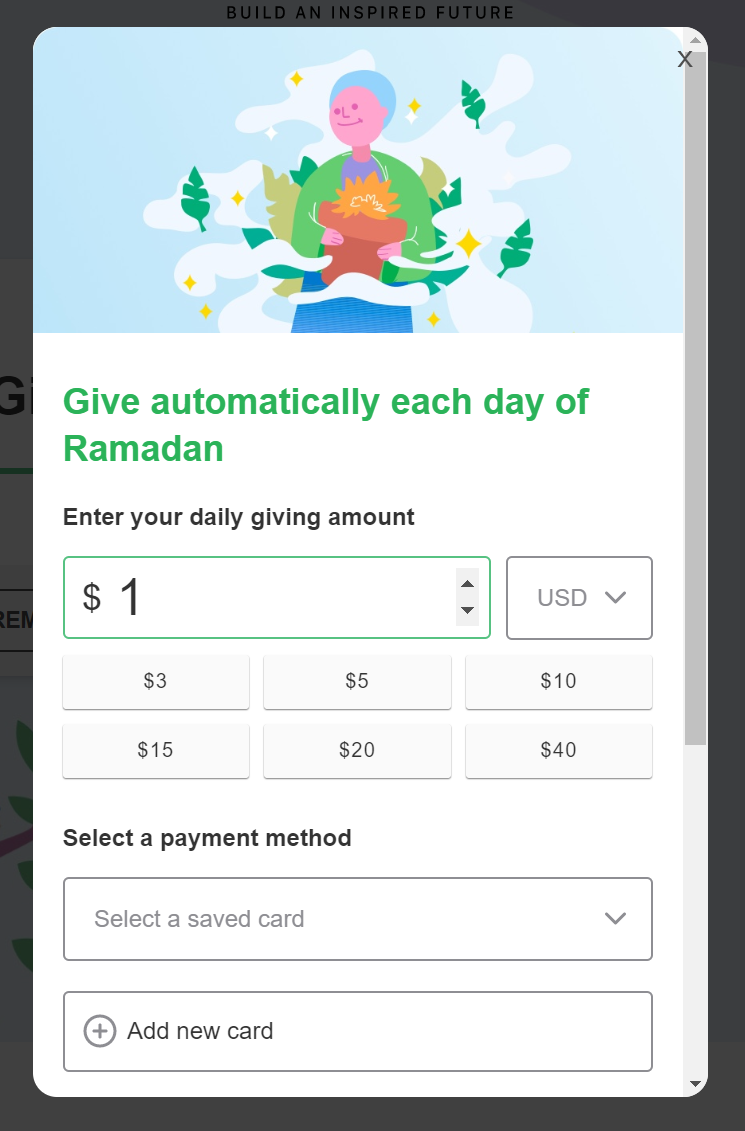 The Prophet Muhammad ﷺ was more charitable in this month
'Ibn Abbas (may Allah be pleased with him) reported: The Prophet ﷺ was the most generous of the people and he was even more generous during the month of Ramadan when Jibreel visited him. Jibreel, upon him be peace, would meet with him every night of Ramadan until the end of the month and the Prophet would recite the Quran to Jibreel. When Jibreel met him, he would be more generous than a fast wind bringing rain.' Sahih Bukhari
Click here to sign up to the Ramadan Challenge.
Muslims United in Doing Good
Last year, more than £9 million was raised by over 53,000 participants for 1,000 campaigns as part of LaunchGood's Ramadan Challenge. InshaAllah this year, more money will be donated.
Deeds are Multiplied in Ramadan
In Ramadan, the reward for each deed is multiplied by at least 70 times so donating just £1 a day is like donating £70 a day. But it is not limited to that, Allah can reward a person how He wills depending on their sincerity and intention.
Furthermore, Laylatul Qadr is likely to be in the odd nights of the last 10 nights of Ramadan and we know that Laylatul Qadr is better than 1,000 months. This means donating in Laylatul Qadr is like donating every single day for 83 years and 4 months!
So by taking part in LaunchGood's Ramadan Challenge, you'll earn so much reward with little effort. Allahu Akbar!
Your digital home for Ramadan
This year, the Ramadan Challenge has become a homepage for the beautiful month of Ramadan. IlmFeed will be featuring your articles and top-tips for Ramadan weekly on the 30 Days of Giving homepage. Do you have some tips for fellow Muslims when it comes to fasting? How do you make the most out of Ramadan? Share It with IlmFeed and LaunchGood at contribute@ilmfeed.com