Some social media users have expressed their opposition to a supposed plan to convert London iconic Trocadero building at Piccadilly Circus into a 'mega mosque'.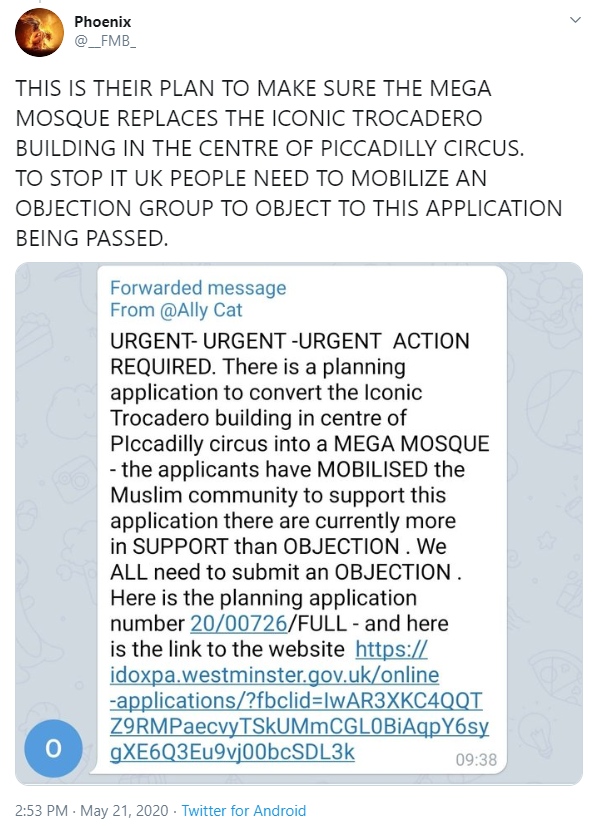 However this is simply not true. The Aziz Foundation which owns the building have indeed submitted a planning permission to establish a place of worship at the building however, the proposal only includes a derelict basement which has been empty and unused since 2006.
In a statement, the Aziz Foundation have clarified that the estimated usage of the building will typically expected to be less than 100 people except for the Friday prayers.
They say it is would "provide an indispensable service for the thousands of Muslim workers, visitors and residents who currently struggle to find adequate prayer facilities in the area. Regular prayer is very much part and parcel of a Muslim's life. The opportunity to stop, pause, reflect and pray helps to keep life's balance."
The planning application consultation closes on 27th May and the Aziz Foundation are asking for people to show their support at Westminster City Council's website.
How to submit your view:
Go to Westminster City Council's website
Login, Register, Sign up now. Once logged in, click on the above link again)
Complete form to make a comment (select 'support' on the stance section if you support the plans for a prayer space) and leave a comment – then submit