During Switzerland's world cup match against Serbia, Swiss players Granit Xhaka and Xherdan Shaqiri celebrated scoring by making the Albanian Eagle gesture with their hands.
As a result, the two players were fined by FIFA. Xhaka and Shaqiri were fined 10,000 Swiss francs each (£7,600) and a third player, Stephan Lichtsteiner, was fined 5,000 Swiss francs.
In response, Rilind Reka who is Kosovan, started a crowdfunder in order to raise money to pay for the fines.
He said he opened the page  "spontaneously" after he heard FIFA's verdict.
He wrote on the crowdfunding page,
"This campaign is to raise money for the Swiss National Soccer Team players: Granit Xhaka, Xherdan Shaqiri and Stephan Lichtsteiner. For celebrating their victory by making the Albanian Eagle gesture. 
They brought joy and happiness to all Swiss and Albanians across the globe, please spare a moment and support them."
"If the Swiss Football Association does not accept the funds raised, we will gladly donate all the money to a charity of their choosing." he added.
The campaign went viral and the $25,000 was reached very quickly.
Rilind has since posted two updates on the crowdfunding page where he indicated that the Swiss FA has turned down the money, asking for it to be donated to charity: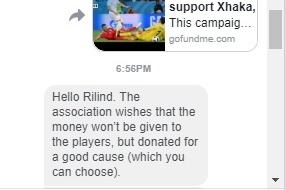 Rilind Reka / GoFundMe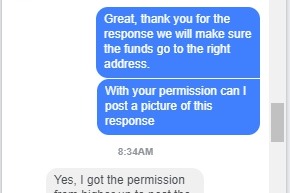 Rilind Reka / GoFundMe
Riling has suggested that the funds "will be donated to schools in rural areas in Kosova, for the purchase of sports equipment to be used for physical education classes."
What a great story!