British athlete Sir Mo Farah has responded to Donald Trump's decision to suspend visas for seven Muslim countries after it emerged that he could also be banned from the USA.
He is currently training in Ethiopia and is due to return to the USA where he lives with his wife and children. It is unclear if he will be subject to the ban.
The ban applies to citizens from Libya, Sudan, Yemen, Somalia, Yemen, Iraq and Iran but also applies to those who were born in those countries and have dual nationalities.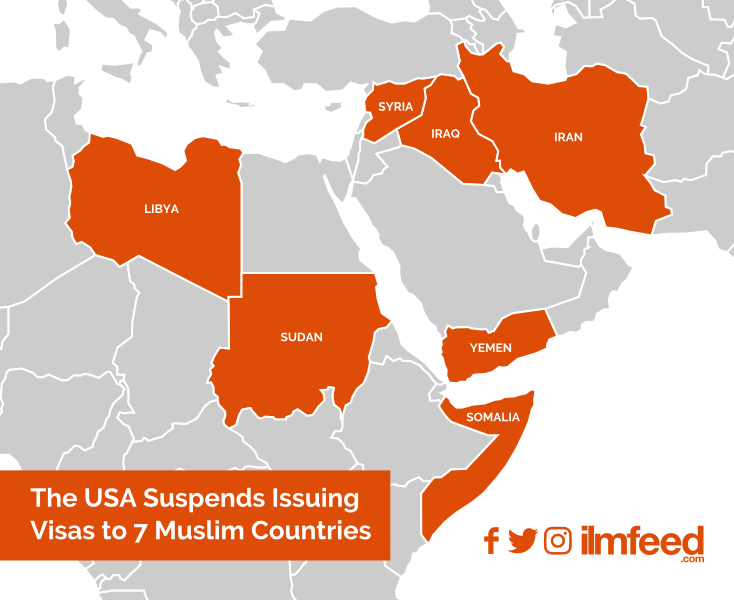 The 7 countries who's citizens are currently banned from travelling to the USA.
Mo Farah who was born in Somalia and moved to Britain when he was eight years old posting the following message on his Facebook page:
I am a British citizen who has lived in America for the past six years – working hard, contributing to society, paying my taxes and bringing up our four children in the place they now call home. Now, me and many others like me are being told that we may not be welcome. It's deeply troubling that I will have to tell my children that Daddy might not be able to come home – to explain why the President has introduced a policy that comes from a place of ignorance and prejudice.
I was welcomed into Britain from Somalia at eight years old and given the chance to succeed and realise my dreams. I have been proud to represent my country, win medals for the British people and receive the greatest honour of a knighthood. My story is an example of what can happen when you follow polices of compassion and understanding, not hate and isolation.
There are currently protests happening across major airports in America with legal challenges to Trump's executive order being made by various organisations and groups.