Humanitarian and Edhi Foundation Chairman Abdul Sattar Edhi passed away at the age of 88 in Karachi on Friday night, A state funeral was held today after Zuhur prayers at the National Stadium attended by prominent figures from the Army and Government and thousands members of the public after which he was laid to rest at Edhi village.
Crowds of people gathered outside the Karachi hospital late Friday night to express their condolences to the family.
Social media quickly lit up in honour of the man whose work uplifted the nation's destitute and orphans, the love is cemented in their hearts..
Known in Pakistan as the "Angel of Mercy" for his social work that also won international acclaim, Edhi had established a welfare foundation almost six decades ago that he oversaw together with his wife, Bilquis Edhi.In 2013, The Huffington Post said that he might be "the world's greatest living humanitarian.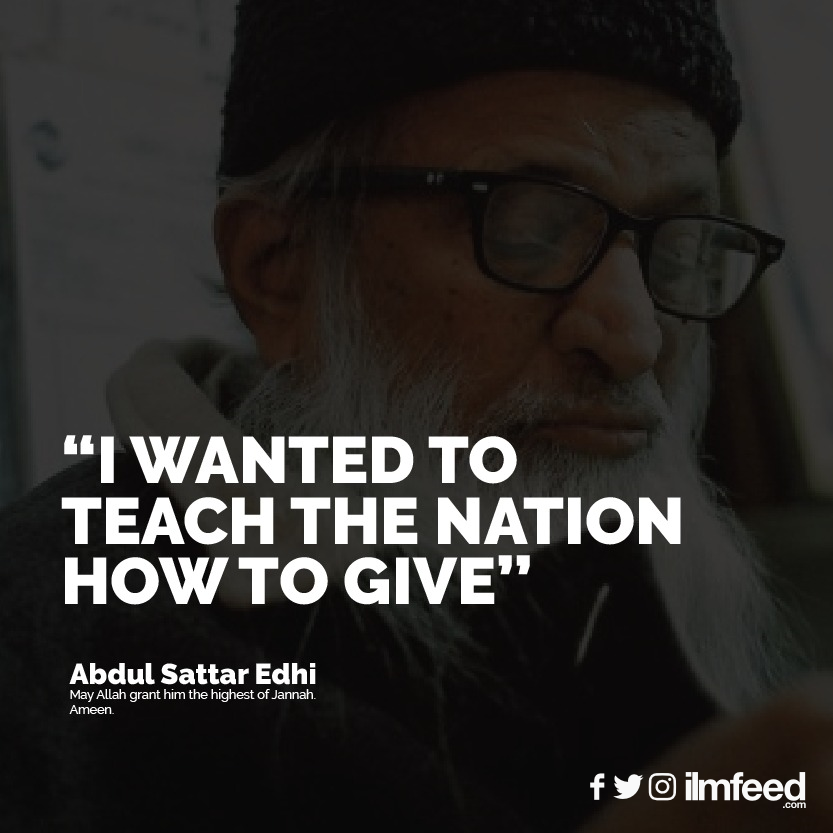 "I wanted to teach the nation how to give."
Abdul Sattar Edhi
His work won him many awards including the Gandhi Peace Award, the 2007 UNESCO Madanjeet Singh prize, the 2011 London Peace Award, the 2008 Seoul Peace Award and the Hamdan award for volunteers in humanitarian medical service.
Revered by many as a national hero, Edhi created a charitable empire out of nothing. He masterminded Pakistan's largest welfare organisation almost single-handedly, entirely with private donations. To many, Edhi was known as "Father Teresa" of Pakistan.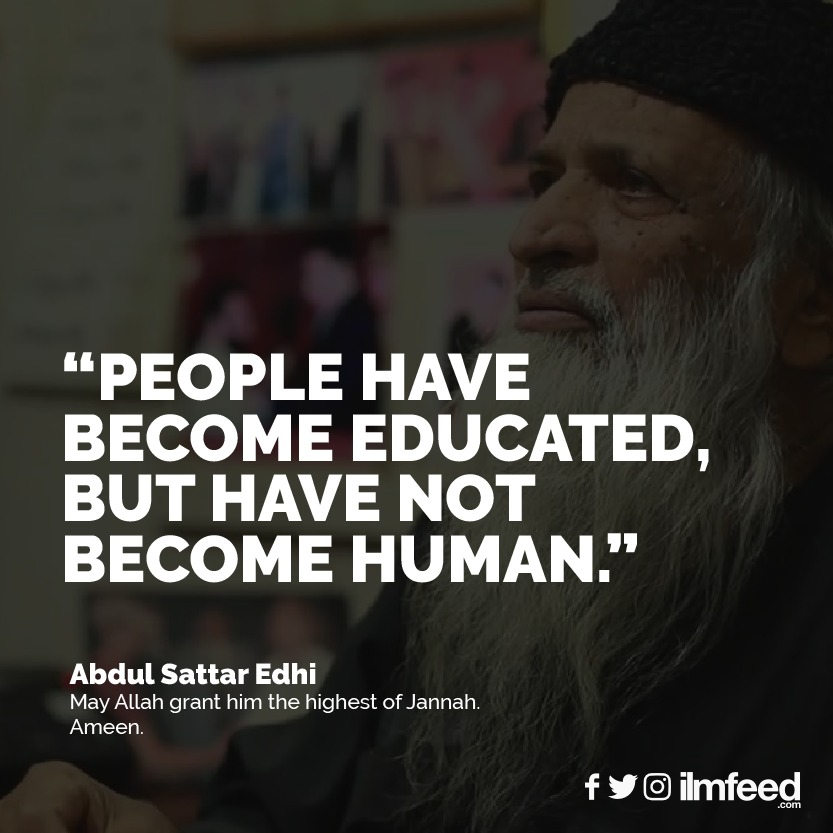 "People have become educated, but have not become human."
Abdul Sattar Edhi
Edhi was born in 1928 in Bantva in the Gujarat, British India. The partition of India led Edhi and his family to migrate to Pakistan in 1947. He then shifted to Karachi, He initially started as a peddler and later as a commission agent selling cloth at a Karachi wholesale market, he later established a free dispensary with help from his community. That was the start of his Charity Empire for the people of Pakistan. His mother would give him 1 paisa for his meals and another to give to a beggar.
"You have to care for all beings created by God…My mission is to help any person in need."
Abdul Sattar Edhi
Frail and weak in his later years, Edhi appointed his son Faisal as managing trustee of his charity in early 2016.
Motivated by a spiritual quest for justice, over the years Edhi and his team created maternity wards, morgues, orphanages, shelters, and homes for the elderly — all aimed at helping those in society who were in need.
The Edhi Foundation continues to grow in both size and service, and is currently the largest welfare organisation in Pakistan. Since its inception, the Edhi Foundation runs the world's largest ambulance service (operating 1,500 of them) and offers 24-hour emergency services. It has rescued over 20,000 abandoned infants, rehabilitated over 50,000 orphans and has trained over 40,000 nurses. It also runs more than 330 welfare centres in rural and urban Pakistan which operate as food kitchens, rehabilitation homes, shelters for abandoned women and children and drug addicts and clinics for the mentally handicapped.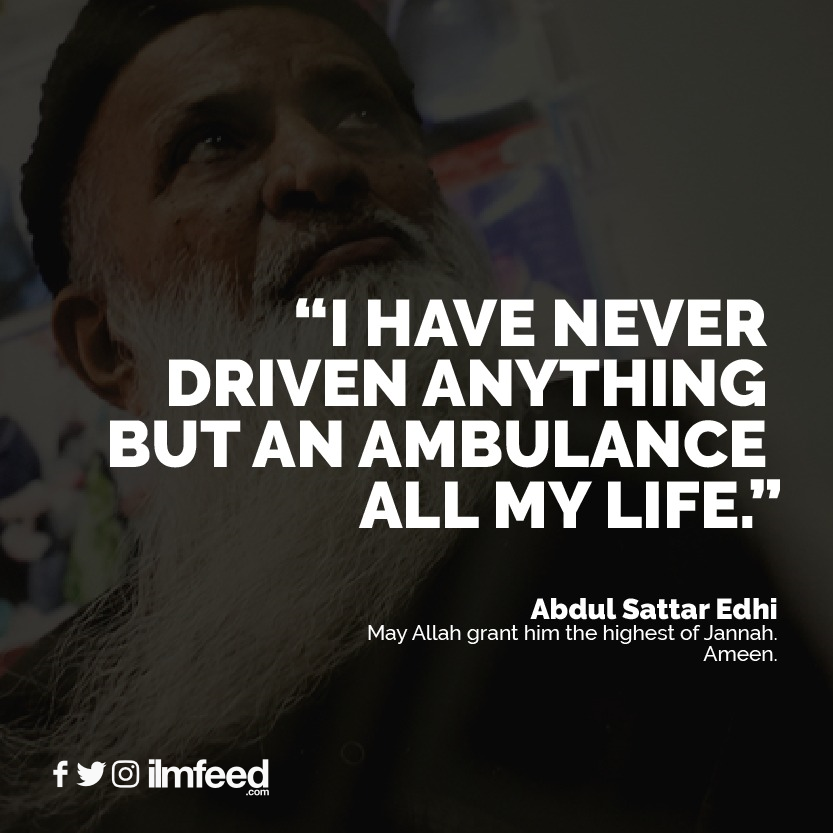 "I have never driven anything but an ambulance all my life."
Abdul Sattar Edhi
He will be remembered for years to come and will inspire others to work for humanity.
As he left this world his final words were "Meray mulk kay ghareebo ka khiyal rakhna.". (Take care of the Poor of my Country."  He also donated his eyes for any one in need of them.