Live TV cameras went behind the scenes at the Royal London Hospital and Barts Health NHS Trust in London to reveal how surgeons operate, giving viewers at home an opportunity to step into the theatre.
On the final night of a three-episode ground breaking show, Professor Shafi Ahmed, a Muslim Bengali surgeon removed a tumour from the colon of a patient at The Royal London Hospital. Professor Shafi Ahmed, the lead surgeon is hailed as one of the world's leading surgeons. He conducted a live operation as over 55,000 watched at home.
Dopamine levels were high as viewers took to social media to commend the professor for his unique professionalism, calm conduct, and amazing ability to operate and educate his staff and viewers at the same time.
#OpenHeartSurgery is the most amazing thing I've ever seen. These surgeons and nurses are incredible.

— Lexi Gray (@Lex081) November 13, 2018
Incredible skill from all involved. Such an impressive international mix of professionals work in the NHS. #OpenHeartSurgery

— stroller (@nigeynugs) November 13, 2018
But not everyone could stomach what was on show and for those who thought the programme was going to give a dreamy glance of keyhole surgery were in for a shock as close-up images from inside the patients naval was shown.
For Lead Surgeon Shafi, this was no surgery based on gut feelings. Every step has been thought out and every scenario had been prepared for.
Professor Ahmed and his team, working at the Royal London Hospital, performed an operation called a right hemicolectomy. The procedure involved removing the section of the patient's large intestine which contained a 3cm tumour, and re-joining the large and small intestines with stitches and staples.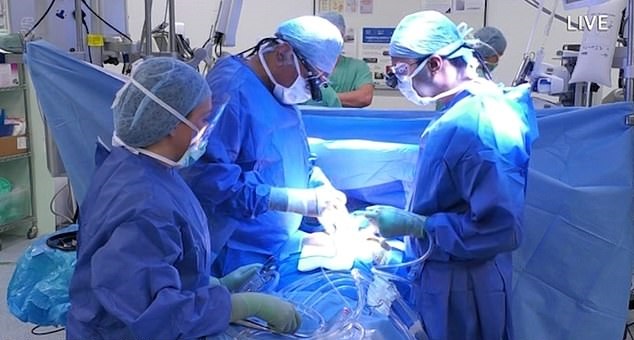 Channel 5 / Operation Live
There is absolutely no doubt that Professor Ahmed is one of the most charismatic, influential and yet incredibly humble guys in the world of healthcare. Not only is he a brilliant surgeon but his ability, desire and sheer enthusiasm to pass on his skills to others is unlike anything viewers had ever seen before. His innovation in tech-healthcare is both cutting-edge and a marvel for medical students all over the world.
In 2014, Ahmed became the first doctor to use augmented reality during a live stream of his surgery, wearing the Google Glass device where he communicated with viewers. He sees it as a means to educate people. "They have different ways to reach people," says Ahmed.
Two other surgeons also carried out live operations including Royal London's consultant orthopaedic surgeon Steve Millington and Bart's consultant cardiothoracic surgeon Kulvinder Lall.
The three-episode programme showcased the vast expertise, the quality of service and the dedication and care shown by those who are working within our countries National Health Service.
We ask Allah to bless our Brother Shafi and to reward him for his efforts in advancing the world of healthcare.