Almost $200,000 has been raised for three heroes who stood up to a white-supremacist terrorist.
The three were on a train in Portland, USA when Jeremy Joseph Christian began verbally abusing two young Muslim women. When they stood up for the young women, he launched a vicious terror attack, stabbing the three men.
53-year-old Ricky John Best and 23-year-old Taliesin Myrddin Namkai Meche were killed.
21-year-old Micah David-Cole Fletcher, is recovering in hospital from his injuries. Micah is a former Madison high school student who won a 2013 poetry competition with a poem condemning prejudices faced by Muslims.
As news spread of the attack, Muslim organisations launched a campaign on LaunchGood for the three men titled 'Muslims Unite for Portland Heroes'.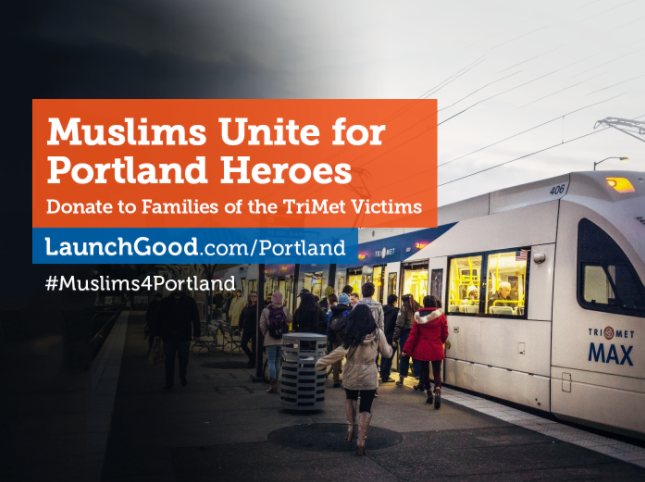 The campaign went viral with over $170,000 raised in just one day.
The team behind the campaign said,
We wish to respond to hate with love, to evil with good, as our faith instructs us, and send a powerful message of compassion through action. Our Prophet Muhammad, peace be upon him, said: "Have mercy to those on earth, and the One in Heaven (God) will have mercy upon you." The Prophet's life exemplified that central commandment in the Quran: "Repel evil with that which is better" (41:34).  
Fundraising proceeds will help with the immediate, short-term needs of the grieving families – including funeral expenses. If needed, funds will also help with the medical bills of Micah David-Cole Fletcher (currently hospitalized). After all immediate expenses such as funerals are covered, extra funds will go towards long-term expenses of the families.
Check out the campaign here
Related: Man Verbally Abuses Muslim Woman, Receives Letter of Forgiveness