On Thursday night, an announcement was made that Hafiz Patel (may Allah have mercy on him) had passed away aged 92. It was a sad day for Muslim around the world particularly for British Muslims who had immensely benefited from his service for Islam.
As news broke, Muslims around the world shared their memories of him on social media.
In a Facebook post, Shaykh Abdul Raheem wrote how Hafiz Patel was one of the first Asian migrants to arrive in the UK and how he joined the Tablighi Jamat da'wah movement:
Hazrat Hafez Patel Saheb was one of the first to arrive in the U.K., in 60s. He liked cricket, he was a cricket player and a team leader. He joined the work of tableegh. In the beginning, he had to walk to people's homes in the snow, wearing wellies He would knock on people's doors and call them to the masjid for Salah. He was appointed the leader of the work and even after shoora was made, he remained the spiritual leader of the Da'wah work.
He describes how he would make du'a for the Ummah:
Ansari Saheb who would be his Khadim in many of his travels, especially Haj & umrah, says that he would get up very early for tahajjud and then he would cry a lot while making duas for the ummah
Raheela Siddique and 'Prince Rakeem' mentioned similar things:
Huge huge loss .. what an amazing guy …he prayed every night for this ummah every night in tahujjad for us

Ameen – I have witnessed how much du'aa he made and tears he shed for the ummah.
Abdul Hamid Faruki wrote about his sacrifice for the religion:
An esteemed scholar who was respected by thousands. When Hadhrat along with his colleagues came to Britain from India, they sacrificed almost their entire life for the elevation of the deen in the Western hemisphere. Hadhrat worked tirelessly for the Muslims in Britain during the 1950s and 60s, in order to help us grow better in the deen. We have so much to thank him for and our other elders who made it easy for us. It is a big loss to the Ummah.
Maulana Imtiaz Sidat described how Hafiz Patel would walk miles in order to propagate the deen and called him a leader for all British Muslims:
Hafiz Patel Saheb rahmatullahi alayhi would walk daily from Dewsbury to Bradford (approximately 10 miles) for the sole intention of calling people towards Allah. Sixty or seventy years ago we had nothing in terms of establishment of Islam here, it is through his struggle and his sacrifices that alhamdulilah we have the masajid, makatib and madaris that exist today. Not only was he the Amir of jammat, but without doubt he was one of the Amirs of the Muslims here in the UK and we are all indebted to him.
Shaykh Abu Eesa shared the sentiment:
Tablighi Jamaat has lost its UK Ameer, but the Muslims of the UK have lost one of its leaders. Allahul Musta'an.
Hafiz Patel's funeral was held Friday afternoon and it was attended by thousands. People had come from all around the UK to pay their respects with some flying in from abroad: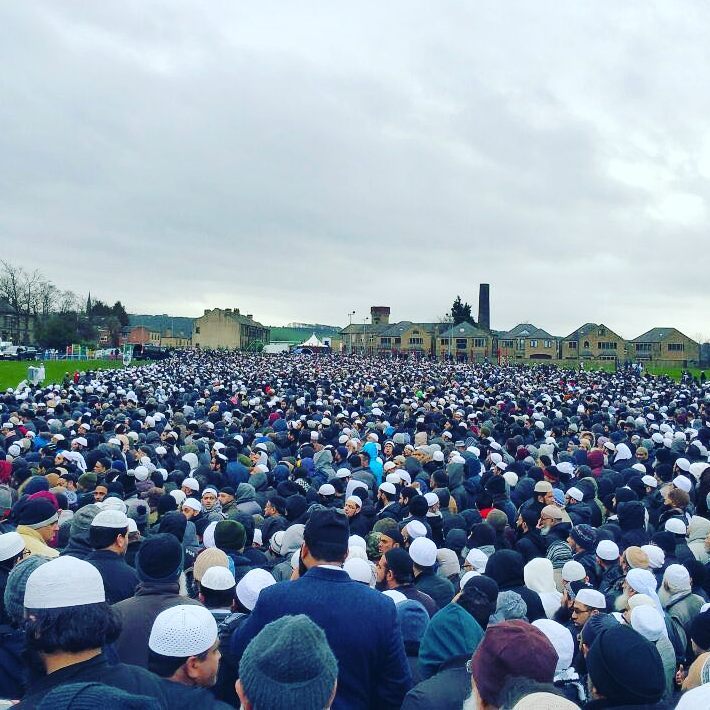 Photo: Tufail Hussain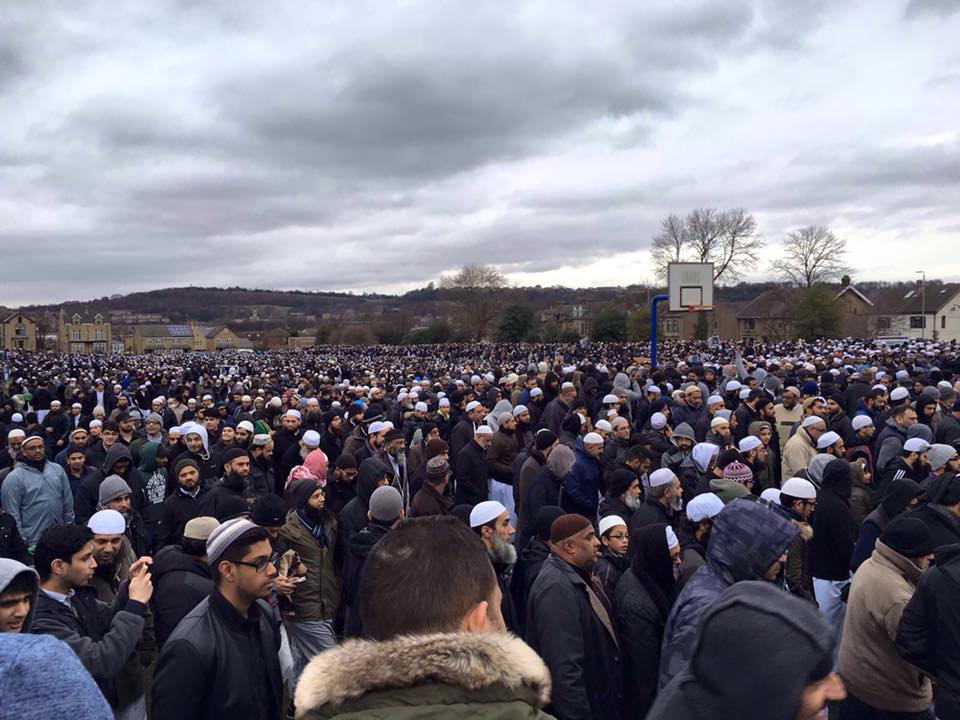 Photo via: Ridwan Waza
Some who were not of the Islamic faith were moved by the funeral: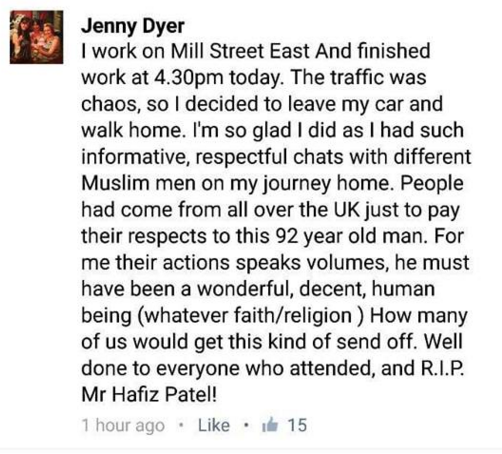 Growing up, I would often hear the mention of his name in my local masjid and amongst friends and family. I was fortunate to sit in one of his gatherings at the Markazi Masjid in Dewsbury as a teenager. It was a gathering which had many youngsters in attendance like myself and I remember how he spoke with so much love and concern for the youngsters. He reminded the gathering about Allah and how to get closer to Him.
I have seen posts from people of all backgrounds and ideologies paying their respect and I think it's a sign that his work was accepted insha Allah.
I think it would be no exaggeration to say that he was instrumental in helping to solidify the iman of the Muslims in Britain and connecting them to their faith.
May Allah grant Hafiz Patel the highest Jannah and allow us to emulate his footsteps in propagating the deen. Ameen