Verity Jones, a disabled mother from Bedford, England posted a message on a Facebook group used for selling/swapping items asking if anyone was willing to deliver some nappies for her: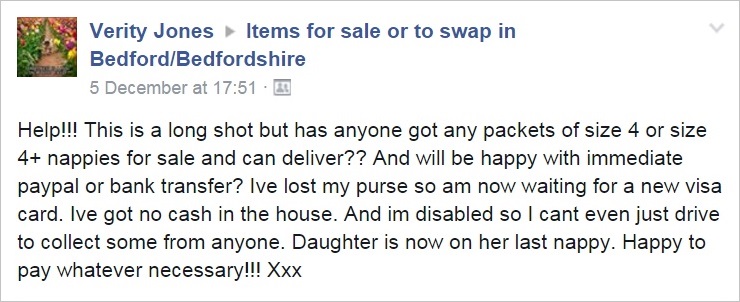 Help!!! This is a long shot but has anyone got any packets of size 4 or size 4+ nappies for sale and can deliver?? And will be happy with immediate paypal or bank transfer? Ive lost my purse so am now waiting for a new visa card. Ive got no cash in the house. And im disabled so I cant even just drive to collect some from anyone. Daughter is now on her last nappy. Happy to pay whatever necessary!!! Xxx
She was in a bit of a sticky situation; she had lost her purse which contained her debit card and her daughter was on her last nappy (that's diaper for our American readers). On top of that she didn't have any cash at home and her disability prevented her from collecting some nappies from anyone.
She didn't expect a result and was faced with the prospect of hoping her daughter doesn't need to answer the call of nature having run out of nappies!
An hour later, a Muslim man called Tariq Hussain left a comment saying:

Verity I don't have any but if no one gets back to you let me know and I will purchase some and drop off to you.
Verity got in touch with Tariq and true to his word, he dropped off the nappies. Delighted, she left a comment saying:

Yes everyone im sorted now. Tariq, the worlds kindest man, dropped me a packet off free of charge. What a wonderful and lovely thing for a stranger to do. Xxxxxx
Verity left another comment saying:
Im embarassed to say I got all emotional lol. X
Touched by Tariq's actions, other members of the group left many messages for him:
"This has made my day, so nice to have good people still in this world"

"Wow what a lovely man"

"You are a star ! Make a me feel that there is hope in this world such a small jesters from a huge heart"

"Wow don't normally do this but goes to show how many wonderful people are out there and are prepared to help a complete stranger and want nothing in return."

"Tariq, up most respect. With all this crazy stuff going on lately, you are a gentlemen."

"Brought a tear to my eye! Such an act of kindness!"

"What a lovely thoughtful thing to do thank you Tariq, restores my faith in human kind"
Lastly, Tariq responded to all the messages saying:

Thank you all for the lovely messages it was and honour to help a mother in distress
Well done Tariq!