It's been almost a year since the Boston Marathon Bombing which brought chaos and carnage to the day's events and did nothing but to further the cause of those who wish to portray Islam as a violent religion.
Ilm Feed has got in touch with three individuals who prove the opposite to be true and though some Muslims make the headlines for all the wrong reasons, there are others who through their actions, are bringing positive change to society and are making a difference to people's lives.
Zaheer Khan and Akbal Ahmed will be taking part in this year's grueling 26.2 mile London Marathon and Haroon Mota has participated in previous marathons.
Zaheer Khan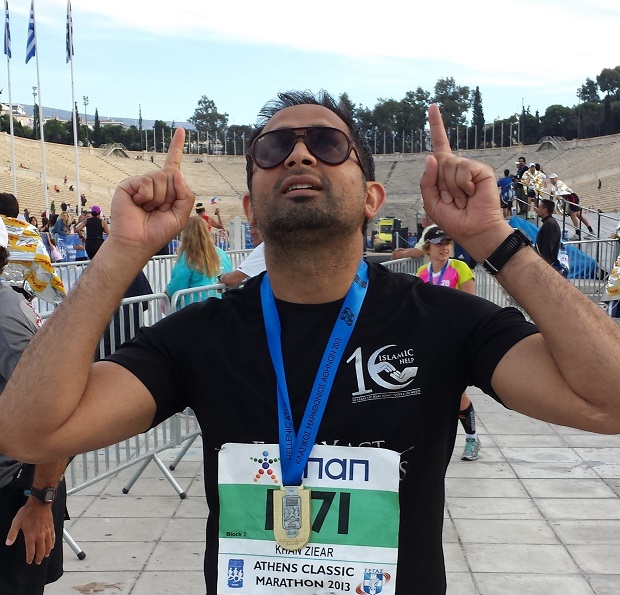 Tell us a little about yourself.
I work for Islamic Help as the director of fundraising and communication. I have been involved with Islamic Help for just over 8 years and feel privileged to help oversee our international projects and be directly responsible for our fundraising efforts.
Which charitable cause are you running for and why?
Although the majority of our work is based overseas we also provide support to organisations in the UK. Over the past 2 years I have lost a number of dear friends and family members thorough cancer and decided that I would run the london Marathon on their behalf with all monies raised donated to Saint Mary's Hospice (based in Birmingham). I think it is a great opportunity for a Muslim organisation to support home projects which benefit the wider community.
What preparations are you taking?
Although I am now approaching 40 I am relatively fit. I completed my first marathon in November 2013 (Athen's classic) which is one of the tougher marathon courses so I am fairly confident I will complete the London Marathon. Due to a very busy workload and managing the responsibility of two young children, my training has been up and down and I have really had to fit it in between times which suit my other commitments. Alhamdulillah I have been running an average of 10-15 miles a week and on one occasion ran 16 miles in one session. I have tried to follow a sensible diet over the past couple of weeks to ensure I am not carrying too much excess weight.
How will your faith help you in completing the marathon?
My belief in islam will be by far the biggest support for me in this challenge. I aim to spend the full 26.2 mile course in remembrance of The Lord and all His favours and I know with sincerity and through Allah's decree I will make it over the finishing line inshaAllah.
Akbal Ahmed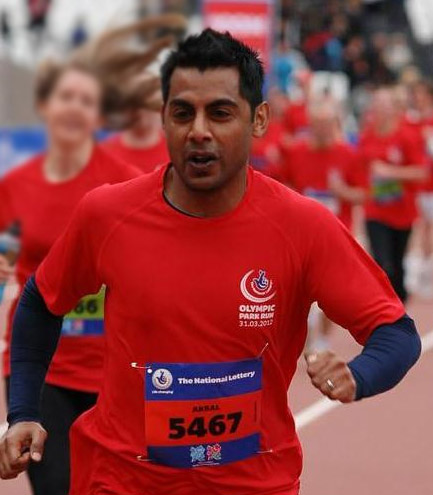 Tell us a little about yourself. 
I'm a commissioner for an East London local authority.
What motivated you to run in the marathon?
I've grown up watching the London Marathon. The route passes by my mum's house and every year since it started we've cheered the runners on as they run/jog/walk by. As a kid, I've always wanted to run it. I ran a few mini London Marathons when I was at school and said that I'd run the London Marathon when I get older. So, 24 years later, I applied and got a place.
Which charitable cause are you running for and why?
I'm running to raise money for orphans in Syria and Palestine. Last year my wife gave birth to our first child, Sofia and we're having another baby in May. Being a father is brilliant but you do think about the future a lot more and you want to do things now to give your child a good start. We're very fortunate, Alhamdulillah. But there are kids who have no parents/guardians to look after them. And that's why I'm running to raise money for orphans – to give something to them, no matter how big or small. As Muslims, we can always do more.
What preparations are you taking?
I'm resting now – just staying hydrated and eating carbs. I've downloaded a 14-week training programme 14 weeks ago showing that I had to run 5 days a week to prepare for the marathon. I would put a tick with a red marker on the days I went running and an X on the days I didn't. That training programme has a lot more X's than ticks! But I'm running to raise money for orphans, so with Allah's help will complete the course. If you're reading this, please donate whatever you can.
How will your faith help you in completing the marathon?
There is no way I'm completing the course without Allah's help.
Haroon Mota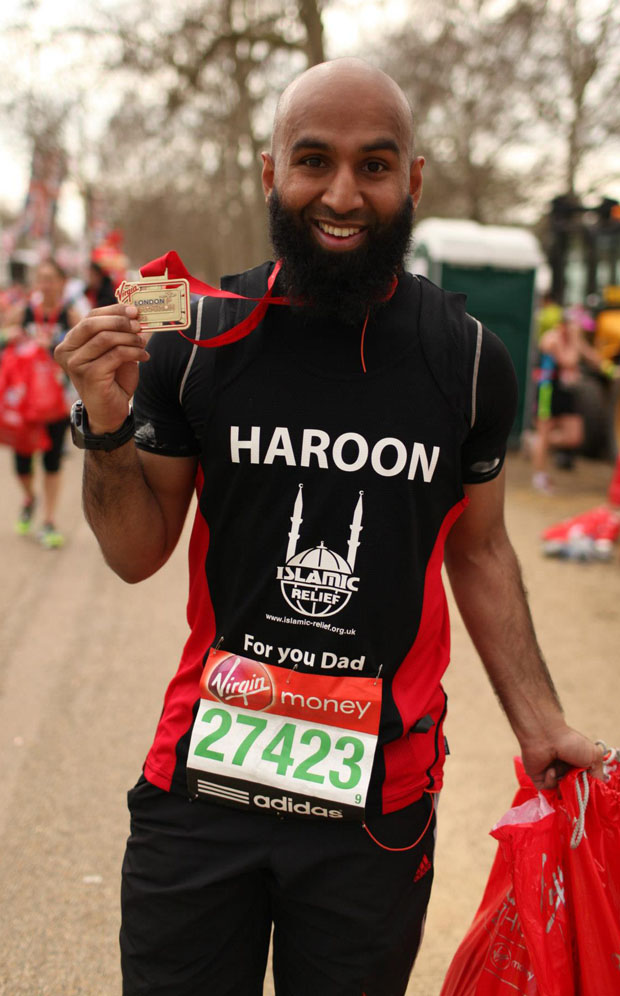 Haroon Mota took part in the 2012 London Marathon completing it in 5 hours and 11 minutes. He was running for the Teenage Cancer Trust who he worked for and raised over £7,000 mashaAllah!
Haroon describes his experience:
After struggling with severe cramp from mile 19, I hobbled through to the finish line in 5hours 11mins. I was doing so well until then & was very dissapointed. The rub from paramedics only gave another 2 mins before cramp kicked in again. Then on it was tough to get going again. A very painful but great experience. I nearly cried when I saw my dad at mile 25. I found myself breaking in tears at mile 8; just remembering why I was running – passing thoughts for all those patients I have lost over the year, it had bottled up since I started working on the Teenage Cancer ward at UCLH a year ago. I felt a sense of relief after I let it out. Short lived was my relief when I realised I had another 18 miles to run. My journey is over now & I will ache for several days. I can barely walk…but the journey of pain & suffering for teenagers with cancer will continue to go on. I will never ever run a marathon again. I have totally retired…
He said he'll 'never ever run a marathon again' but guess what? He did just that and ran the London Marathon AGAIN in 2013 raising over £5,500 for Islamic Relief's 'Water 4 Life' project. He dedicated his run to his dad who had passed away a month earlier (may Allah have mercy on him).
We pray that Allah rewards Zaheer and Haroon for their noble intentions and actions and make them means to inspire others to do the same. Ameen
How you can contribute:
www.justgiving.com/zaheerlondonmarathon
uk.virginmoneygiving.com/akbal
www.justgiving.com/irwater4life
www.justgiving.com/run4tct
Like Ilm Feed's Facebook page to see how Zaheer and Akbal gets on: www.facebook.com/ilmfeed