Masjid Al Falah in Coventry, England has received a lovely letter from an anonymous non-Muslim woman.
The letter was handed into Nafeesa Bhayat outside the mosque who requested her to give the letter to the mosque's management.
Nafeesa told the BBC how the woman also gave her a hug: "She asked if I could give this note to the mosque leaders and said 'I just feel like hugging you all- can I hug you?' and then she gave me a hug and told me she stands with us and not to worry about anything."
Reacting to the letter, Haroon Mota, a user of the mosque said,
"Sometimes in our community we're made to feel we should be apologetic, but we shouldn't apologise for people who don't represent us.
"There's so much negative news and headlines about Muslims, it's nice to see that people can see through this."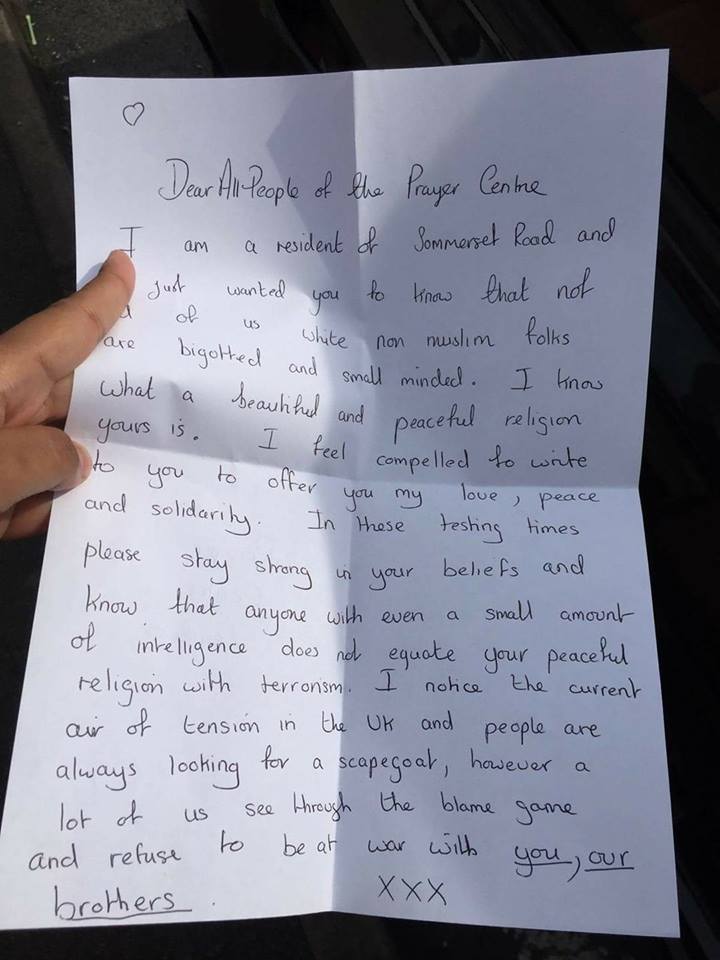 The letter in full:
Dear All People of the Prayer Centre,
I am a resident of Sommerset Road and just wanted you to know that not all of us white non muslim folks are bigotted and small minded.
I know what a beautiful and peaceful religion yours is. I feel compelled to write to you to offer you my love, peace, and solidarity.
In these testing times please stay strong in your beliefs and know that anyone with even a small amount of intelligence does not equate your peaceful religion with terrorism.
I notice the current air of tension in the UK and people are always looking for a scapegoat, however a lot of us see through the blame game and refuse to be at war with you, our brothers.