Khabib Nurmagomedov has called out French president Emmanuel Macron on his Instagram page. The UFC lightweight champion posted a message in Russian and Arabic in which he criticised Macron's defence of cartoons which ridiculed the Prophet Muhammad (peace be upon him).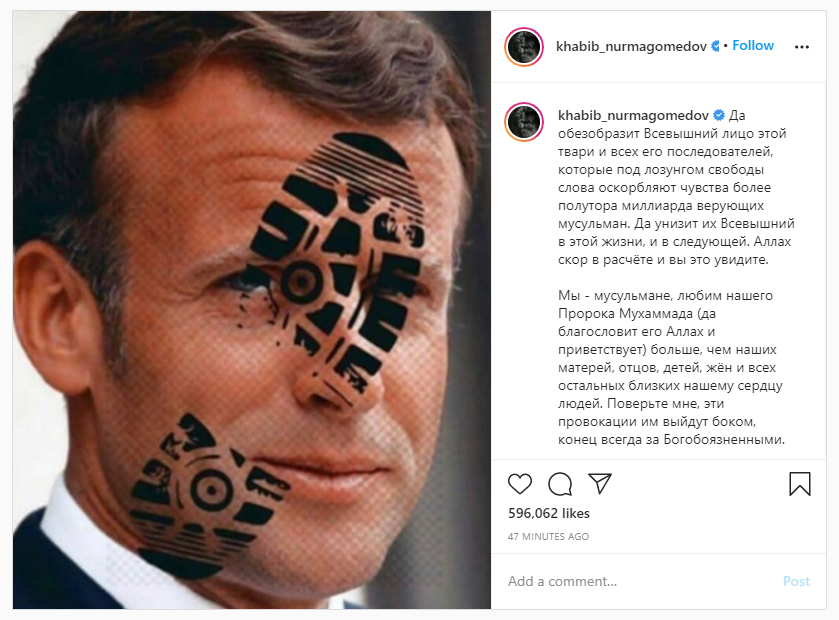 The translation is as follows:
May the Almighty disfigure the face of this creature and all his followers, who, under the slogan of freedom of speech, offend the feelings of more than one and a half billion Muslim believers. May the Almighty humiliate them in this life, and in the next. Allah is quick in holding to account and you will see it.

We are Muslims, we love our Prophet Muhammad (peace and blessings of Allah be upon him) more than our mothers, fathers, children, wives and all other people close to our hearts. Believe me, these provocations will come back to them, the end is always for the God-fearing.
Why is there so much anger directed towards France's president at this moment?

Earlier this month on October 2nd, one week after a stabbing in Paris outside the former headquarters of satirical magazine, Charlie Hebdo, President Emmanuel Macron set out a plan to combat "separatism", focusing on Islam in particular. "Islam is a religion which is experiencing a crisis today, all over the world," he said in his speech.
Macron mentioned the need to "free Islam in France from foreign influences", outlining plans to end a system allowing Imams to train overseas, reduce homeschooling, and take control of religious funding.
The measures are to form part of a draft law on "secularism and liberty", expected in December.
After the murder of teacher Samuel Paty, Emmanuel Macron publicly backed caricatures of the Prophet Muhammad ﷺ insisting they were fundamental to freedom of speech: "We will not give up caricatures and drawings, even if others back away."
Following an official memorial for Samuel Paty in Paris, attended by Macron, the controversial depictions were displayed onto town halls in Montpellier and Toulouse for several hours.
In the days following the teacher's murder, the French state took action against those suspected of links to 'extremism.'
"Our citizens are waiting for us to act," Macron said. "Dozens of operations have been launched against associations, and also individuals who support a plan of radical Islamism, in other words, an ideology to destroy the (French) Republic."
But Muslims in France claim the raids are part of a heavy-handed government clampdown on their communities.
The French interior minister, Gérard Darmanin, who has overseen raids on Islamic organisations and individuals over the past week has defended the police actions, insisting France was seeking to stamp out 'extremism.'
Darmanin has also announced his intention to close down high-profile Muslim organisations, including the Collective for the Fight Against Islamophobia in France (CCIF) and BarakaCity, a humanitarian organisation.