The 1947 partition of India and Pakistan led to the largest mass migration in human history of some 10-15 million people with Muslims migrating from present day India to present day Pakistan and Bangladesh (which was then known as East Pakistan) and Hindus migrating to present day India although many decided to stay in their ancestral lands.
The borders were hurriedly drawn up by a British lawyer, Cyril Radcliffe, who had little knowledge of Indian conditions and with the use of out-of-date maps and census materials.
Over one million civilians died in the accompanying riots and local-level fighting, particularly in the western region of Punjab which was cut in two by the border. The riots were a result of a lack of military and political control on the part of the British who had colonised India.
The 1947 Archive project is a project run by volunteers which is documenting personal stories from those who lived through the 1947 partition of India and Pakistan. IlmFeed has obtained permission to publish some of the stories and what you're about to read is truly heartbreaking:
Mohammad Ramjan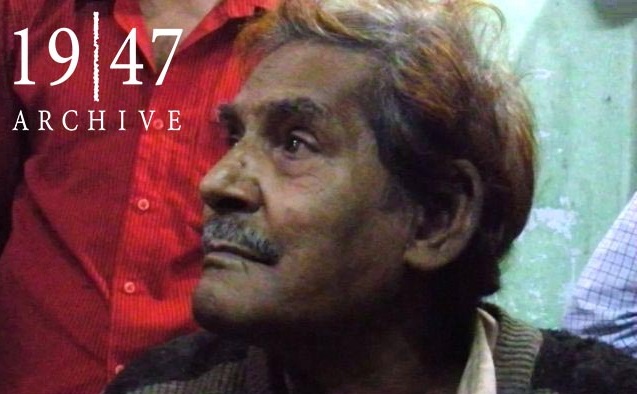 Currently Residing At: Dhaka, Bangladesh
Age in 1947: 12
Migrated from Kolkata, West Bengal, India to Dhaka, Bangladesh
Mohammad Ramjan was born in 1935 in Kolkata, British India. His father was a police officer for the British government and chose to Pakistan during the Partition. Mr. Ramjan and his family witnessed the worst riots of Kolkata. He remembers men and women being taken away from their houses by the mobs, and trucks full of corpses passing by their house. During this turmoil, his family hid in a graveyard for 2 days to save themselves. Eventually, once the riots subsided, they took the train to Dhaka, East Pakistan. After moving to Dhaka, Mr. Ramjan took up odd jobs such as taxi driving. After the war of 1971, he, along with his family, moved to the Geneva camp in Mohammadpur, Dhaka.
Akhtar Hussain Rana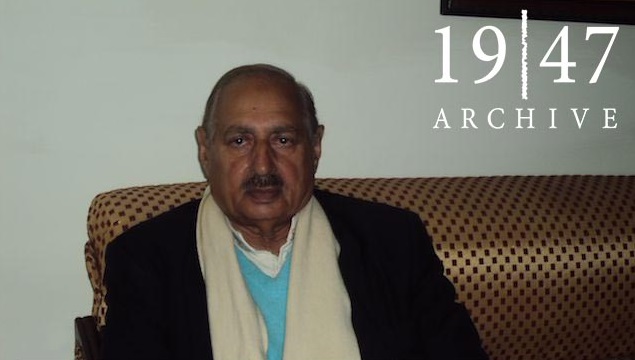 Currently Residing At: Rawalpindi, Punjab, Pakistan
Age in 1947: 11
Migrated from Bhagoran, Punjab, India to Chunian, Punjab, Pakistan
If you go out and spend time with other children, how will you learn about the matters that are handled inside the house? You need to be here with your elders to meet and greet people when they come to see us. This was the philosophy that Mr. Akhtar Rana grew up with in his Rajput clan in Bagora village, Tehsil Navashehr, District Jalandher. His father and uncles always kept their sons close to them, for every minute was an opportunity for them to learn the ways of the Rajput clan.
Mr. Rana was 11 years old when news of the Partition arrived. He remembers when his cousin Rai Muhammad Khan, a landowner, was attacked and killed by a group of men one morning in 1947. After killing him, the men killed three women in the top floor of the house. By then, news had spread of the Rai Muhammad's murder. The men of Mr. Rana's family picked up guns and rushed to the village. A gun battle followed which finally ended in the evening, when the police managed to shoot the men holding the house. The next day, the house was burned down. The family sought refuge in their home in Bogra. When they heard attacks were imminent, they left Bogra by kafila. They first stopped in a small village called Tirchian near Amritsar. He remembers hearing news every day about villages being burnt, complete families being butchered.
During their journey to Lahore, Mr. Rana was grief-stricken. He was eleven years old and was frightened to leave the only life he knew. He had heard of Pakistan but did not know where it was, what it would be like, or what would he do there. He went back to school, finished university, and married Akhtar Bibi, who shares the same first name. He remembers it was a very difficult time for his family. They had very little land, and his father was a very honest man. They faced many hurdles. Today, he lives in Chunian. Sometimes he dreams vividly about his village. Mr. Rana hopes to visit his mother and uncle's graves and the family house in Bogra soon. His message is that the violence that surrounded 1947 could have been avoided.
Kazi Shamsuzzaman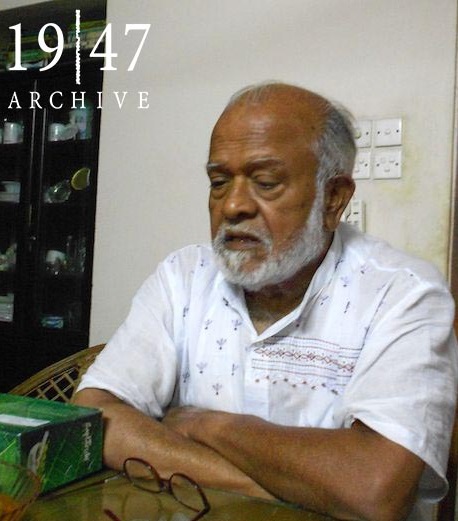 Currently Residing At: Dhaka, Bangladesh
Age in 1947: 15
Migrated from Howrah, West Bengal, India to Dhaka, Bangladesh
Kazi Shamsuzzaman was born in Jadavpur, British India. His family lived in Howrah prior to partition. His father was a postal worker in Howrah. A traumatic riot broke out in Howrah in 1946 called the Direct Action Day, and eight people died. They lost everything. The house was looted and burnt to ashes. The women fled with only their jewelry on them. While Mr. Shamsuzzaman hid in a tree, his father hid in a graveyard. They came to Dhaka penniless in 1947. They were often called "ghoti" and discriminated as refugees in Dhaka. Mr. Shamsuzzaman completed his education there and worked as an Insurance Agent. Later, he went back to Howrah to see his birthplace. The house they owned is now owned by someone else.
Mehmuda Khatoon
Currently Residing At: Karachi, Sindh, Pakistan
Age in 1947: 4
Migrated from Daryaganj, Uttar Pradesh, India to Karachi, Sindh, Pakistan
Mehmuda Khatoon was born at the residence of her paternal aunt, the granddaughter of Bahadur Shah Zafar, at Darya Ganj, Delhi. She is the youngest of three sisters and a brother. Her mother's home was at Nizamuddin. Her father was a bricks contractor in Delhi. The decision to leave Delhi was made when they heard rumors that insurgents were on their way to set fire to the Nizamuddin settlement, as narrated to Mrs. Khatoon by her mother.
Mrs. Khatoon's aunt managed to arrange some seats in the train headed to Lahore and urged her mother to leave Delhi at their earliest. It was very difficult for her family to decide at that moment, recalls Mehmuda, as her father had died of natural causes only a few days before violence erupted in the area. "There is a mourning period of 3-4 months, called 'iddat' after the death of a loved one. We were maybe in the second day of mourning our father's death when we had to flee Delhi," she says. She doesn't remember her father at all. "We didn't even have a photograph of him," she says.
"My mother was in the middle of making dinner. It was almost sunset when one of my uncles' sons, a columnist at Dawn newspaper who'd been missing for days, came to our house unexpectedly, injured and covered in blood," Mrs. Khatoon recalls.
He confirmed the rumors of rioters headed towards their neighborhood and advised them to leave everything immediately. "We had to flee the house without taking any of our belongings. I still remember we didn't even turn down the burning stove, and still remember the flame. We had a cook who was helping my mother make rotis."
Mrs. Khatoon was four years old at the time of Partition and, with her family, she migrated to Karachi via Lahore from Delhi Railway Station. They stayed in the basement of a mosque for one night where she says that she felt scared by the dark and suffocated by the large quantity of people hiding there with them. The next day, they were moved to the Red Fort. Mrs. Khatoon doesn't remember the number of days they stayed in Red Fort but recalls getting food and water and being taken care of before they were escorted to the Delhi railway station. She says there were British troops sitting on top of their train to ensure it reached its destination safely, as there was news of trains being stopped short and people in them being killed.
The train took them to Karachi, making a brief stop at Lahore. In Karachi, they stayed at the refugee camps. She remembers running around in the refugee camp and fetching kerosene oil for three paisas to light the lamp and stoves in their tent. About two weeks later, they were shifted to a newly-built quarter at Jacob Lines on Abyssinia Road in Karachi. She used to play 'pehel dooj' or hopscotch with kids from the streets and would sometimes secretly hitch a ride on the trams of Saddar, Karachi, where she also saw a school but did not attend it. Saddar, usually a highly populated marketplace, was empty and very quiet, Mrs. Khatoon recalls.
Her elder sisters and brothers continued their schooling after migration, but Mrs. Khatoon was taught to read and write at home and acquired most of her learning from children's educational programs on television and radio.
She was married at the age of 21 years in 1964 and moved in with her husband on Jehangir Road. The couple has three daughters and three sons. She's been living in Federal B. Area in Karachi since 1973 with two of her children and grandchildren.
The early years of her life in Delhi were like a dream to her that only started making sense when she re-visited her aunt's and her mother's homes during her trip to India in 1983, she says. "I naturally wanted to be at my aunt's house at Darya Ganj and met my aunt. She asked me if I wanted to see my mother's house in Nizamuddin as well." Mrs. Khatoon says that she was surprised to see her mother's house intact. It had actually been occupied by other families belonging to Hindu, Muslim, and Christian communities and everyone knew her mother. She also visited and prayed in the graveyard of her mother's old house where her father had been buried.
Abdul Rehman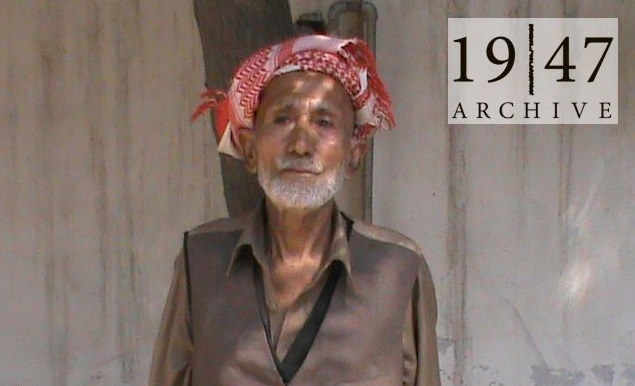 Currently Residing At: Faisalabad, Punjab, Pakistan
Age in 1947: 8
Migrated from Chabal Kalan, Punjab, India to Faisalabad, Punjab, Pakistan
Abdul Rehman, also known as "Manna," was born in 1934 in Chhajpur Kalan near Panipat. Young Mr. Rehman assisted his male family members in cultivating their fields. He often visited local villages to participate in festivals. Growing up, Mr. Rehman was much influenced by the wisdom of his elder brother.
In 1947, announcement of a division of the land and of migration was made via loudspeakers in his village. Mr. Rehman says that all residents were helpful in assisting the migrating families. One day Mr. Rehman and his brother were working in the fields when a man told them that surrounding villages had been invaded and many were killed, including many Mr. Rehman's cousins. He said that the group was heading toward Chhajpur Kalan. Mr. Rehman hid in a sugar cane field while his brother disguised himself. When the invaders reached their field, the workers told the invaders that there were no families left in the village, in order to deter them. But when Mr. Rehman and his brother returned to their village, they saw many dead in the streets. Homes were locked and shops were looted. Mr. Rehman and his brother walked to the town of Chhajpur Khurd. The families of the town escorted them to Noorwala where refugees had gathered. He was informed in Noorwala that fifty members of his family had been killed. After hearing this news, Mr. Rehman was unable to speak for a time.
An army convoy took all refugees from village Noorwala to Panipat refugee camp, where Mr. Rehman lived for one month. One day, Mr. Rehman along with other refugees were put on a train to Amritsar. En route, they encountered a fallen tree on the track. The army removed the tree and the train continued on. Mr. Rehman and his family lived in Walton camp in Lahore for one month and later moved to Sialkot. His family did not feel at home in the new environment. They did not receive any land compensation after Partition, and understanding the local language was difficult at first.
Mr. Rehman later moved to Daultala and continues to cultivate land there today. Concluding, Mr. Rehman remarks that life was simple before Partition.
Hakeem ud-Din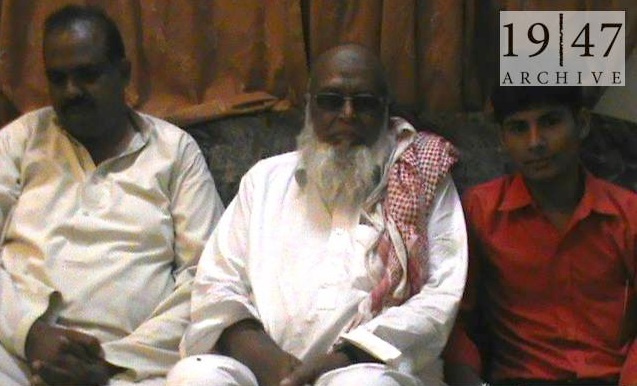 Currently Residing At: Rawalpindi, Punjab, Pakistan
Age in 1947: 13
Migrated from Panipat, Haryana, India to Rawalpindi, Punjab, Pakistan
Hakeem ud-Din, fondly called Ghappa, was born in 1934 in Har Singh Pura, Panipat, Haryana. He assisted his family with agriculture and farming. His father cultivated maize, wheat and other grains. He remembers digging out the waterways for irrigation in his ancestral land daily with his elder brother who was very strong and healthy. He says that his family used camels for ploughing in the field. He lived in a large house with dozens of rooms constructed where all families of his grandfather, his cousins, and his uncles lived side by side. He says that community relations were cooperative in the village.
When Partition was announced, violent incidents began to take place in the town. Villagers started destroying properties. Some of his family members were in his maternal village of Bichpari when an armed group arrived in Har Singh Pura. Mr. ud-Din left the village in a hurry and reached a village known as Nawab Garh, where he lived for 25 days along with his extended family. He says that many people invaded the town and the village was burnt to ashes. Approximately 50 people in his extended family were killed. Mr. ud-Din was able to escape the violence by taking shelter in a forest outside the village with relatives. In order to not be identified, he wore only his underclothes while hiding in the forest. He went through the forest to Faridpur Haryana, Chandoli and Bhainswal. He succeeded in joining his parents and the rest of his family in Bichpari. Together they went to Noorpur, Uttar Pradesh.
He says that he and his family managed to assist many girls who were in the custody of invaders and helped the girls find families to travel with. Mr. ud-Din, his family and other refugees gathered in Noorpur, and were escorted by the army to Panipat and Karnal. Their caravan stayed at the Karnal refugee camp. He saw many wounded refugees there. The next day, his family crossed the border by train. The train passed Ludhiana and Jalandhar railway stations safely, but it was not allowed to move further from Amritsar. After waiting several hours, the train was allowed to depart. The refugees were given food at the Lahore railway station. Mr. ud-Din lived in the camp for 10 days. He recalls that daily rations were rice and a few pieces of bread. He says that people were dying daily due to cholera. After a few days, he along with the other fellow refugees were transferred to Kahuta, Rawalpindi by train. They were given maize flour to make bread.
In Kahuta, his family did not feel completely settled, so they decided to move to Daultala, Rawalpindi. There, his family found many houses that had been vacated. Once they found a residence, Mr. ud-Din began working as a laborer. Later, he received some land from the government. Today, he lives with his whole family including grandchildren in Rawalpindi.
Ali Asghar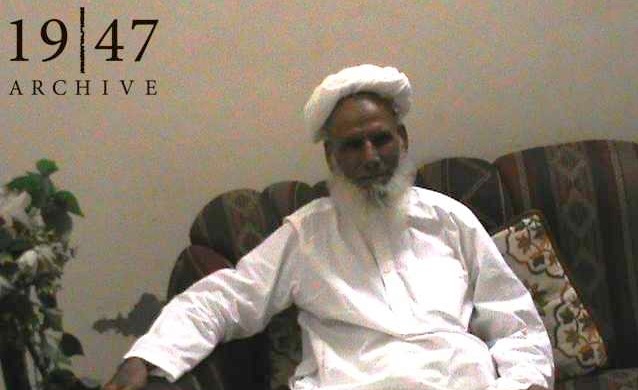 Currently Residing At: Faisalabad, Punjab, Pakistan
Age in 1947: 15
Migrated from Kapurthala, Punjab, India to Faisalabad, Punjab, Pakistan
Ali Asghar was born in Kaduwela, Karpurthala in 1932. He remembers playing streets games during his childhood with his friends. He went to primary school at Thakkar Kora. His family received news of communal riots from Sultanpur Lodhi. Therefore, he along with his family left Kaduwela. Women, children and men were crying while leaving the land of their ancestors along with their valuables. They took nothing special from the village, locked their house and started on their journey to another village. When they reached their destination, they saw aftermath of a massacre. Then they lived in Fattu Dhinga for 12 days. People armed with swords, blades, axes came into Fattu Dhinga from time to time; however, they were able to stay safe. A local policeman contacted the refugees for arranging a safe escort from Fattu Dhinga. When their caravan came out of the village, it confronted a mob. Fortunately, a caravan traveling towards Jalandhar approached them at the same time, which was escorted by the army.
However, when Mr. Asghar was walking in a caravan along with his brothers-in-law, he was separated from his own family near a bridge. The group was split in two. One group decided to travel the route passing through Amritsar and the other and decided to cross the border in Firozpur district. Their caravan continued traveling through Lahore. When they reached Sheikhupura, many buildings had been burned down. Ali Asghar with his sisters and bothers-in-law lived in Dera Nawaz Khan for three months. One day his father reached Dera Nawaz Khan in his search and he traveled to Faisalabad to join his parted family. With the passage of time, they were allotted land and started to cultivate it.
A big thanks to the 1947 Partition Archive for giving IlmFeed.com permission to share these eye-opening stories. To find out more about the project, click here.