You may have heard of the Pokémon Go craze which is going on. It's a smartphone game which uses augmented reality to make Pokémon characters appear around you and allows you to catch them. As you move around, different of Pokémon will appear depending on where you are and what time it is.
This means Pokémon can be found anywhere including places of worship such as mosques!
Gamers have been tweeting about finding Pokémon in mosques:
CAUGHT MY VERY FIRST POKEMON BULBASAUR AT MOSQUE JAME?

— ɹɐ (@_forIorn) July 8, 2016
Brb there's a Pokemon at salhiya mosque I need to catch

— Hind Francis (@hindfrancis) July 11, 2016
There's a pokemon outside this mosque, I can't walk up to a place of worship just to catch a pokemon pic.twitter.com/kk9LiMo6aJ

— Pink VE (@VirtuePink) July 10, 2016
This pokemon game made me go to the mosque for the first time in months

— waleed. (@waleed_irfan1) July 9, 2016
HAHAHAHAH ARE YOU TELLING ME IM GONNA HAVE TO GO INSIDE A MOSQUE TO FIND THE POKEMON?? #PrayontheGo pic.twitter.com/hQrAwf0NQX

— OUaT Tweets ☄ (@OnceUponATimeKw) July 9, 2016
My boy who hasnt been mosque in 4 years went today to catch pokemon fds

— Talha Nadeem (@90sTalha) July 9, 2016
So it's basically telling me to go to the mosque subhanallah even pokemon knows pic.twitter.com/MIzzAQ3Onq

— بن ربيِّع (@BinRubaya) July 8, 2016
This Pokémon was spotted in East London Mosque: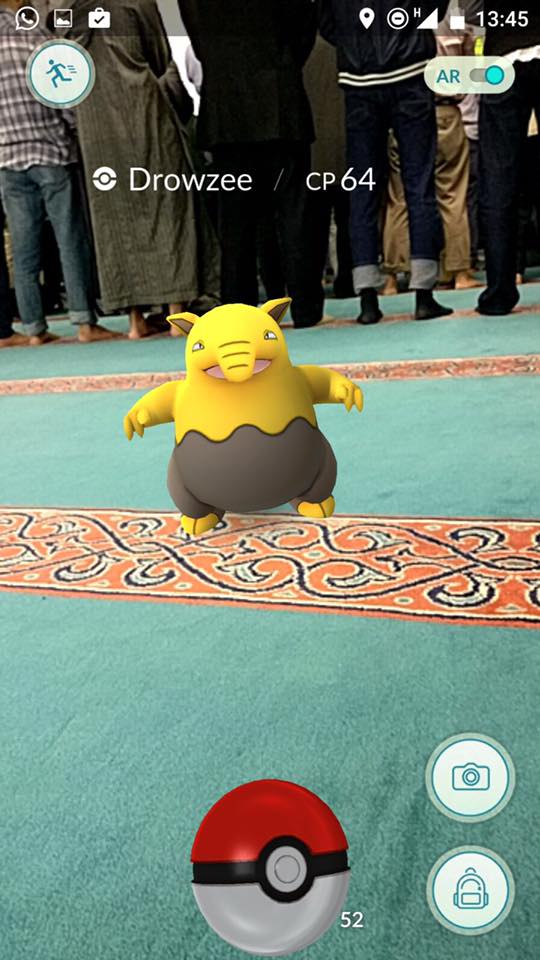 Mosques have also been designated as Pokémon Stops/Gyms:
I got Pokémon Go today and the Craigshill Mosque is a Pokémon centre

— Megan (@MeehanStooert_) July 6, 2016
LOOOL they made Thornton Heath mosque as a pokestop on Pokemon Go. Man was there at Jummah as well :/ pic.twitter.com/2ItOfIAKfG

— Othman (@iamothmann) July 8, 2016
The Mosque and Strathclyde Uni are Gyms on Pokemon Go.

— Matthew (@MattsHappyFace) July 8, 2016
Turns out the local mosque in my town is a pokestop in Pokemon Go. Good Guy Niantic 🙂

— NinjaBoffin (@NinjaBoffin) July 6, 2016
If the game encourages people to visit mosques, it can only be a good thing right? Share your thoughts in the comments section.
Pokémon Go is not the first time augmented reality has been used to find landmarks such as mosques. The Islamic GPS app uses the same technology to locate mosques and Islamic landmarks around the world.