On 3rd September, we posted a graphic on our Facebook page which illustrated that Gulf states such as Saudi Arabia and the UAE took in zero Syrian refugees. A number of media outlets used  the graphic in their news reports and the graphic was shared on various social media platforms:
A number of commentators disputed the figures including Mohammed Khalid Alyahya, an associate fellow at the Saudi Arabian King Faisal Centre For Research and Islam who commented saying:
Zero is a very inaccurate number because Saudi Arabia doesn't have a refugee policy. There are 500,000 Syrians in Saudi Arabia that have been given visas
He also pointed out the fact that:
It's known fact that "refugee" status doesn't exist in much of the Gulf. UNHCR only record refugee status
The Facebook status was edited to include his comments.
We also posted the following graphic to show that these states were playing a role in supporting the Syrian refugees by providing financial aid:
Whilst the numbers used in the graphic were technically correct according to figures obtained from the UNHCR, it was an over sight on our part for failing to explain that the numbers are zero because Saudi Arabia, Kuwait, Qatar, and the UAE are not parties to any of the UN protocols on refugees. The UNHCR define refugees as:
"Persons recognized as refugees under the 1951 UN Convention/1967 Protocol, the 1969 OAU Convention, in accordance with the UNHCR Statute, persons granted a complementary form of protection and those granted temporary protection."
Since then, there have been a number of Middle-Eastern news agencies including a few Western news outlets who have reported statements from government officials clarifying how many Syrians are living in their countries since the beginning of the conflict in 2011. Many have been given work and residency visas as well as access to healthcare and education.
The following graphic shows number of Syrians living in Gulf States since the beginning of the conflict with sources included below: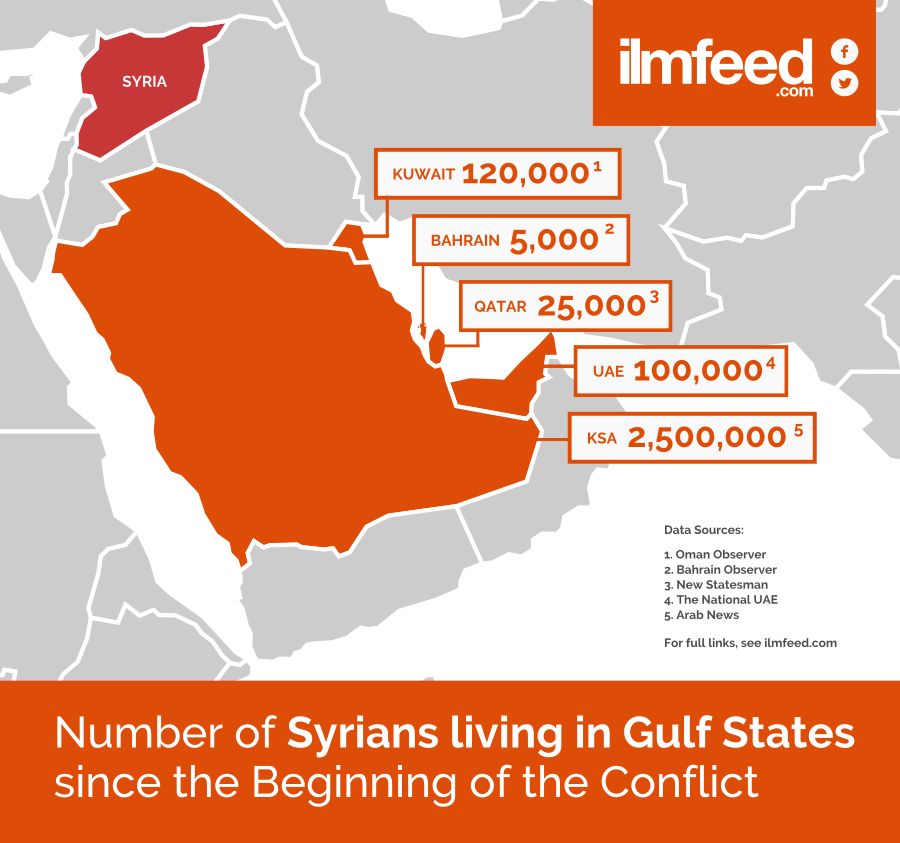 Sources:
[1] Kuwait: http://omanobserver.om/kuwait-uk-ready-to-take-syrian-refugees/
[2] Bahrain http://www.bahrainobserver.com/en/page/114/Bahrain++Naturalise+5000+Syrians+Refugees+.html
[3] Qatar http://www.newstatesman.com/world/middle-east/2015/09/exclusive-interview-qatari-foreign-minister-syria-and-refugee-crisis
[4] UAE http://www.thenational.ae/uae/government/100000-syrians-move-to-uae-since-2011
[5] Saudi Arabia http://www.arabnews.com/featured/news/805236
Data unavailable for Oman