A letter sent by a child after he was expelled from his Islamic school will touch your heart.
Alif Baa Tuition which is based in Bradford England made the tough decision to expel the child after giving many warnings because of ongoing bad behaviour which was disrupting the education of other children. It was the first time they had ever expelled a child.
Not long after, they received the following unexpected hand-written letter from the child who is just 9 years old.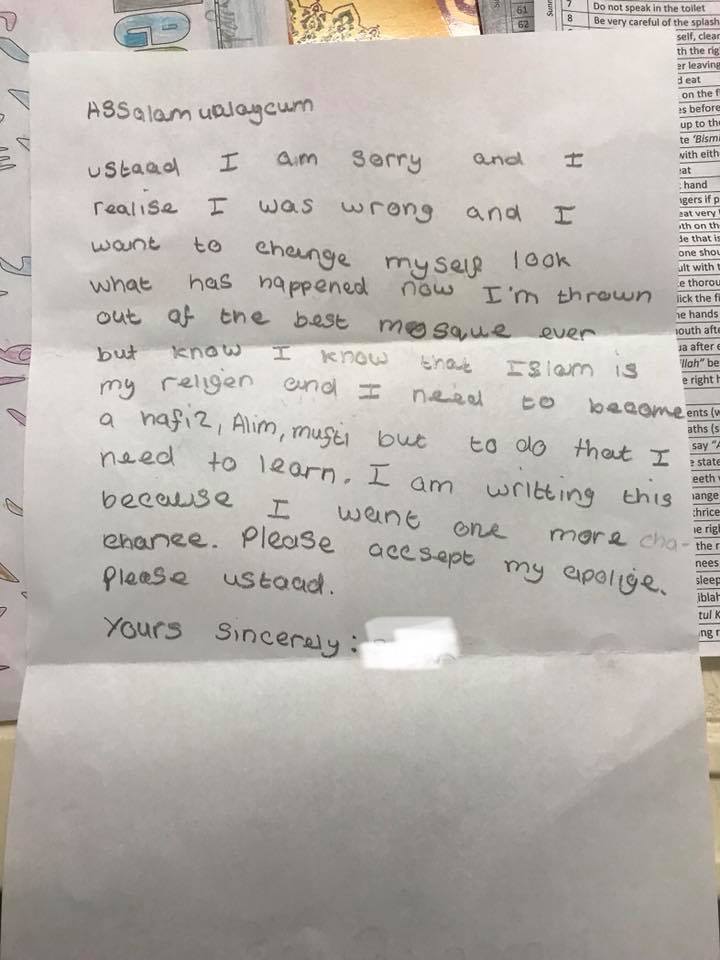 "Assalamualaycum
Ustaad I am sorry and I realise I was wrong and I want to change myself. Look what has happened, now I'm thrown out of the best mosque ever but know I know that Islam is my religion and I need to become a hafiz, Alim, mufti but to do that I need to learn. I am writing this because I want one more chance. Please accept my apology. Please ustaad. Yours Sincerely."
?
The letter touched the hearts of the teachers at the school and they decided to welcome the child back to the school.
The school said,
"Al-Hamdulillah this child is back and performing far more better than before. Expelling him for few days has taught him the value of environments like this and the purpose of attending places like this. Being on progress report and with all our incentives in place he's sure to pull himself back together Al-Hamdulillah. But I guess every child is different. This approach may not work on all children. Al-Hamdulillah this method has worked well on him. In-sha-allah lets see his long term goal and how he progresses. May Allah accept him for His Deen."
The director of the school, Muhammad Ibrahim told IlmFeed,
"My only intention of putting this online was to encourage other students. The fact that getting expelled is not the end of the world and that repentance is a major part in a Muslim's life."
A lesson we can learn from this story is that no matter how many bad deeds we have done, Allah is always ready to forgive us, we just have to ask him for forgiveness sincerely and try our best to perform good deeds and stay away from bad deeds.