Is a 'Halal' Sign Enough?
The number of halal restaurants in London is increasing. With the Muslim population in London at around 12% (2011 census) and the growing number of tourists arriving from Muslim-majority countries, it is unsurprising to see restaurants eager to attract Muslim customers.
Finding the nearest halal restaurant has never been easier, with websites and mobile apps helping you choose the best halal places in town. There are also many Muslim Instagrammers who regularly post appetising photos of halal food along with a review.
Most of us are content with seeing a 'halal' sign, but is it enough? Trust is an Islamic principle and there are examples of this from the life of the Prophet (peace be upon him) even regarding receiving meat. However, today, many Muslims need to clarify whether the chicken was hand or machine slaughtered and if the chicken or lamb was stunned or not. Otherwise, the word 'halal' on its own is doubtful.
IlmFeed Poll
In a survey conducted by IlmFeed on Instagram during February and March 2018, 77% of respondents said that they would not eat from a restaurant which serves machine slaughtered chicken, 83% of respondents said they would not eat from a restaurant which serves chicken which was stunned before slaughter and 93% of respondents said they would not eat from a restaurant which cross-contaminates halal food with haram food.
Lastly, 84% of respondents said that they want restaurants to be more transparent regarding how the chicken they serve is slaughtered.
[infogram id="df1849d9-0c47-462e-b8d9-7b5309bb92bc" prefix="mL4″ format="interactive" title="Halal Food Poll"]
A Look into 60 Popular London Restaurants
With the IlmFeed survey in mind, between 7th February and 12th March 2018, I looked into 60 London restaurants that have been reviewed by a halal foodie on Instagram with a following of 20k+. Some of these restaurants told me that they do not even advertise as halal but just happen to have, for example, halal chicken. Whilst stunning effects chicken and meat, my findings focused on chicken as they are also sometimes machine slaughtered.
I discovered, despite all the chicken being labelled as halal, the method of slaughter differed significantly:
[infogram id="7c014042-880b-42e9-bd74-e1e6c199966f" prefix="gLJ" format="interactive" title="The findings"]
For the full list of restaurant names under each category, click here.

Findings: Checking & Highlighting the Method of Slaughter
Whilst this article is not about telling people which method is halal or not, it is a reminder that one should clarify the method of slaughter depending on the Islamic opinion one follows, as the word 'halal' evidently, is not enough on its own. You can usually find out how the slaughter is done from the certificate which the restaurant or their supplier are able to provide you with, then checking the criteria set by the certifying halal body.
Unfortunately, I found in many instances that the halal certificate and the certifier's website itself was unclear about whether they approve machine slaughter and/or stunning. So I had to email or call to clarify!
Without undermining which methods of slaughter the respective reviewer personally finds acceptable or not, this is a request for the method of slaughter in halal food reviews to be highlighted as it is a concern for many Muslims. The halal food Instagram accounts I looked into with a following of 20k+ showed some reviews do state if the restaurant or their supplier is certified by one of the common halal certifiers, but they rarely give detail regarding the difference.
On most occasions, the reviewers just say the place is halal, with no reference to a certifier or the method of slaughter; this includes reviews for restaurants that serve machine slaughtered chicken.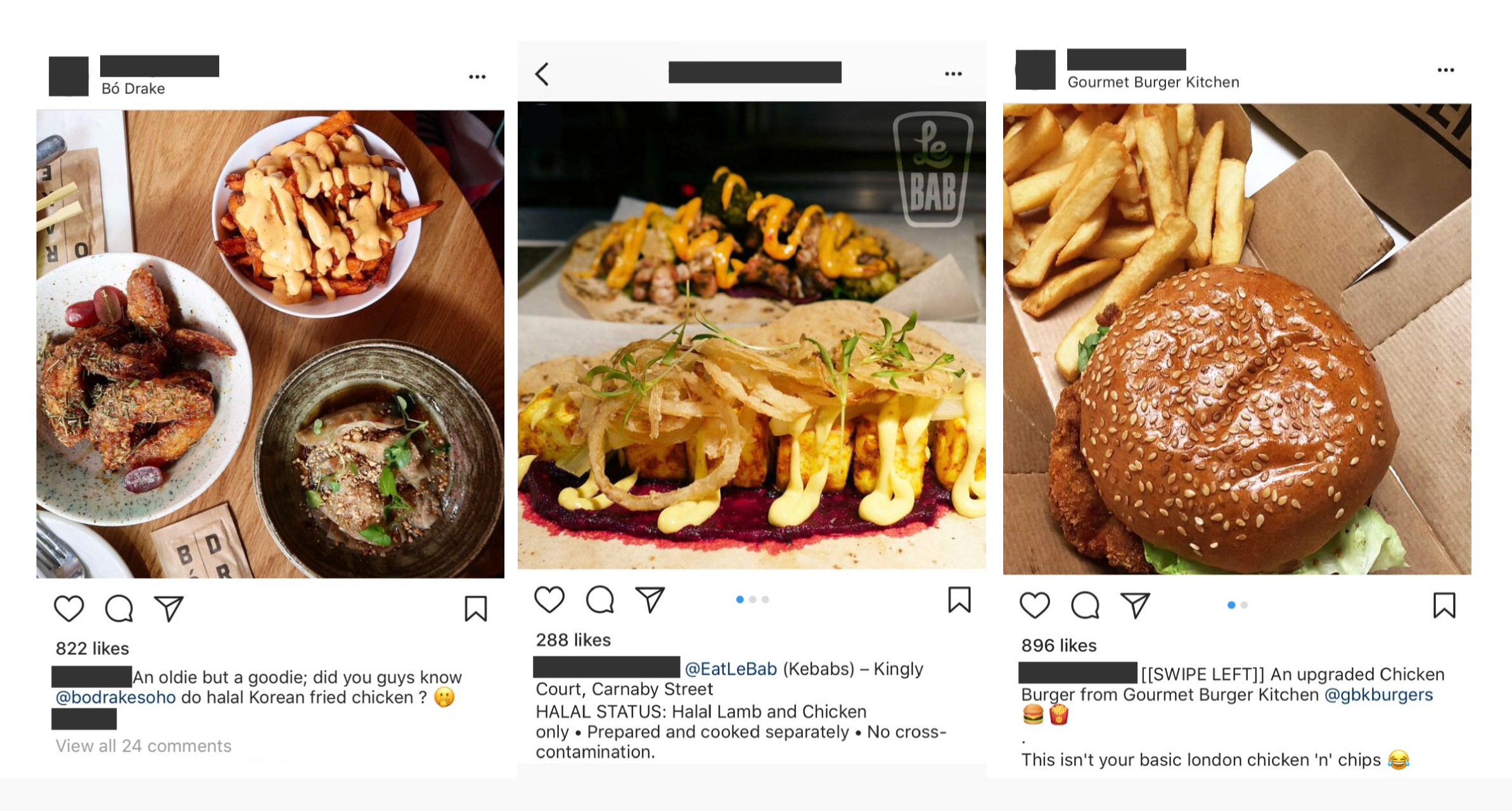 Some examples of Instagram posts from popular halal foodies with no indication of the chicken being machine slaughtered.
Thankfully, most of the businesses I contacted were transparent. However, I could have had more than 60 restaurants in the findings but a number of restaurants or suppliers refused to tell me who their chicken was certified by or the method of slaughter used, despite reassurance from me that their suppliers need not be named.
If influential halal food reviewers and Muslims at large requested this information regularly, this would definitely contribute towards promoting further transparency in the industry.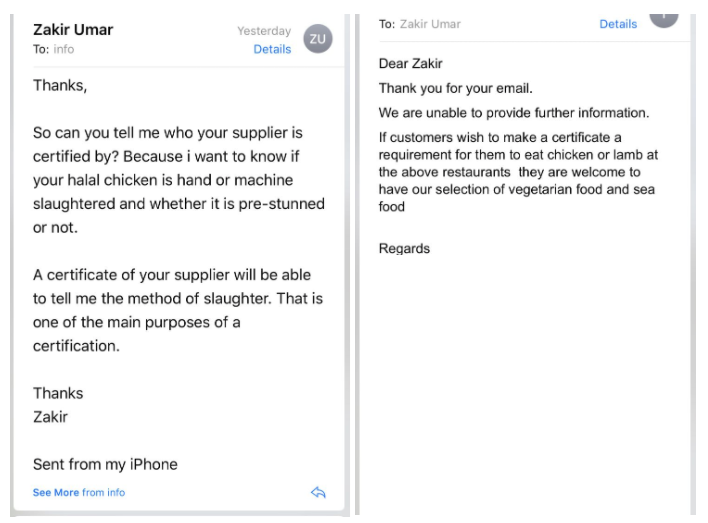 An example of a restaurant that refused to give me details about the way their halal chicken is slaughtered. The emails are screenshots of my correspondence with the head office of 10 award winning London restaurants.
Findings: Restaurants that are Not Halal or Acknowledge Cross-Contamination Risks
IlmFeed contacted the Instagrammers concerned before publishing this article, since in no way do we think they are knowingly promoting a restaurant that is not halal or has a risk of cross-contamination. This aspect among others (such as alcohol policy) is usually included in reviews and the foodies who responded highlighted that they made enquiries at the time and advise all to double-check before heading out, as the restaurant might have changed its policies since their visit.
Thankfully, some of these reviews have now been updated in light of the information I have passed on with regard to the ten restaurants which were found not to be halal or acknowledged cross-contamination risks, after the restaurants themselves confirmed this via email with me in the last month. Other reviews remain unchanged, as the respective reviewer has maintained in their reply to IlmFeed that they were assured about the halal status at the time of dining.
Even so, on the date of this article being published, most of the reviews remain unchanged with regard to the ten restaurants which were found not to be halal or acknowledged cross-contamination risks, without a clarification which has been requested by IlmFeed. Here are some examples: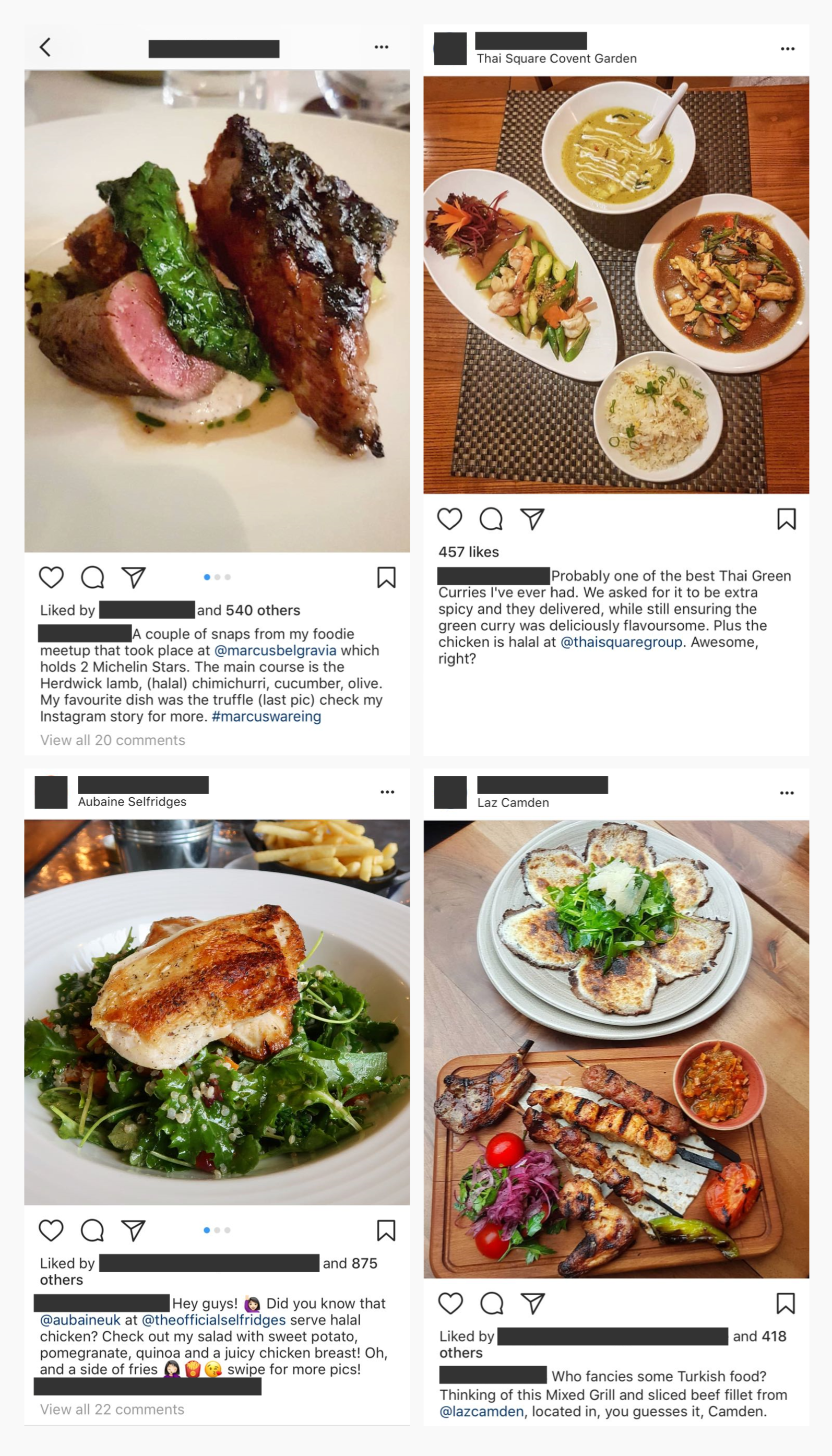 Top-left: Marcus stated: "The [halal] lamb is butchered, stored & cooked in a kitchen where non-halal meat is also prepared. To clarify, we are not a halal restaurant, but it just so happens that our lamb supplier is certified halal."
Top-right: Thai Square (when asked if the halal & non-halal food is cooked separately) stated: "No, it is not".
Bottom-left: Aubaine stated: "Unfortunately no we don't have any halal products on the menu."
Bottom-right: Laz Camden stated: "…lamb shish, chicken shish & the koftes are all halal. But lamb chops, lamb cutlets & chicken wings are not."
Considering the number of people who prefer not to eat at restaurants that sell alcohol according to IlmFeed's survey, reviewers need to be transparent if the restaurant itself admits to not being halal or acknowledges cross-contamination risks. Withholding this detail without explanation is misleading for thousands of Instagram followers, who (if given all the facts) are able to make their own informed choices.
Conclusion
It is important to stress that I am not ignoring the sad reality of intensive animal farming which is fuelled by our overconsumption of chicken and meat. It would be ideal if Muslims led the way in eating more plant-based foods and maintaining a healthy lifestyle. Free-range, organic, hand slaughtered chicken and meat certified by halal bodies who approve non-stunned and stunned methods are also available! Let us be transparent about these aspects too. However, this article is focusing on the essential distinction many Muslims make regarding the method of slaughter.
To conclude, the sample of 60 restaurants should suffice in highlighting that if you do want to avoid machine slaughter and/or stunning based on the Islamic opinion you follow, then take only a 'halal' sign at a restaurant, on a food review or even a certificate with even less than a pinch of salt, until you know the method of slaughter. Be sure to check there are no cross-contamination issues too and whether the restaurant is still halal at all, particularly if the review is not recent.
This article was submitted by an IlmFeed reader. If you'd like to submit a story or an article please get in touch.