Learn about the day to day activities the Hujjaj are undertaking and the significance of each day – picture yourself on this journey! Alhamdulillah I performed Hajj twice; in 2006 and 2010. I want to share with you these experiences to motivate you to go on this journey of a lifetime!
Day 1: 8th Dhul Hijjah- Mina: The City of Tents!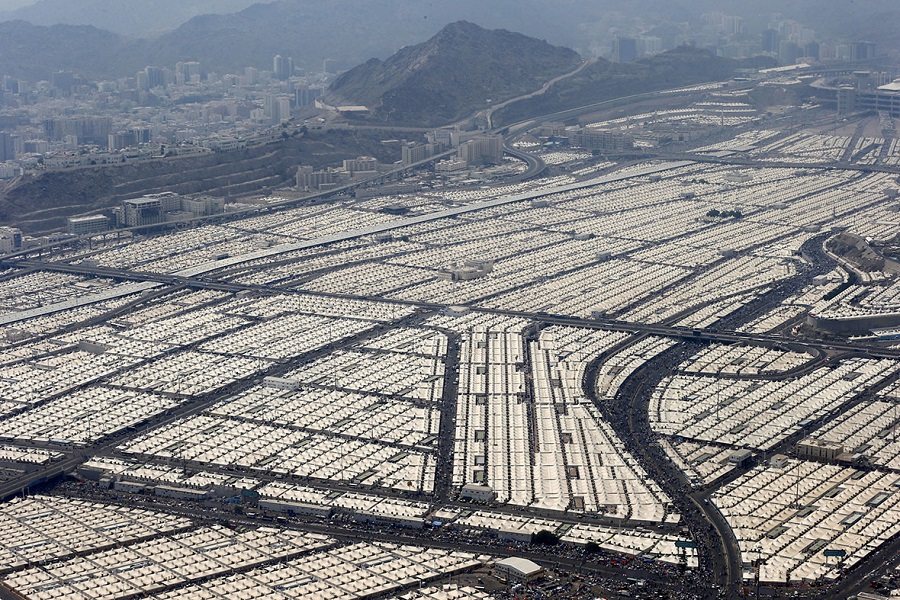 Today begins the first day of Hajj! The Hujjaj will wear the Ihram; two pieces of unstitched sheets for men and make intention to get into the state of Ihram reciting the Talbiyyah, echoing the streets of Makkah and heading to Mina, the city of tents (some will leave earlier to avoid traffic and huge crowds). Mina is situated around 5 kilometres from Makkah.
White tents line up the streets of Mina, all looking the same, these have designated numbers and each section is dedicated to different countries most of the time.
Here they will aim to pray Zuhr, Asr, Maghrib, Esha and Fajr whilst engaging in worshipping Allah throughout the day; performing Salah, engaging in Zikr, reciting the Qur'an and listening to Islamic reminders. Mina has its own spiritual feeling and for many, it will be an experience of living out of their comfort zone. Wherever you look there are people in white – from all nationalities, from different professions and walks of life.
Day 2: 9th Dhul Hijjah – Arafah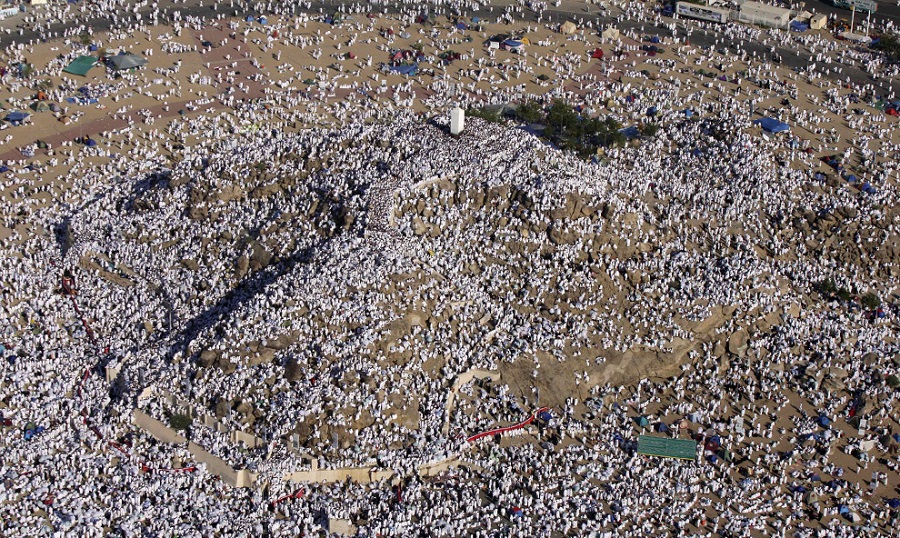 In the morning, the pilgrims will wake up and get ready to head for the plains of Arafah. Prophet Muhammad (peace and blessings be upon him) has said:
"Hajj is Arafah." [Sunan Abu Dawud].
Some will board coaches, whilst others will travel on foot.
Pictured above, you can see the famous Jabal Al-Rahma; the Mount of Mercy. Notably, Prophet Muhammad (peace and blessings be upon him) delivered the famous Last Sermon at the foot of this hill in the year he had performed his Hajj. Arafah however, is not limited to this spot only and is very big.
Anyone who has been to Hajj can tell you that no words can describe the feelings of being in Arafah. From Zuhr, Hujjaj are engaged in worship on this blessed day doing their very best to gain the pleasure of Allah. Towards the end of the day, everyone gets ready to intensify in making supplications. There are people standing wherever you look, raising their hands, tears rolling down their cheeks and making heartfelt supplications. A feeling of peace and tranquillity descends.
After sunset, the Hujjaj will make their way to Muzdalifah…
10th Dhul Hijjah – Night – Muzdalifah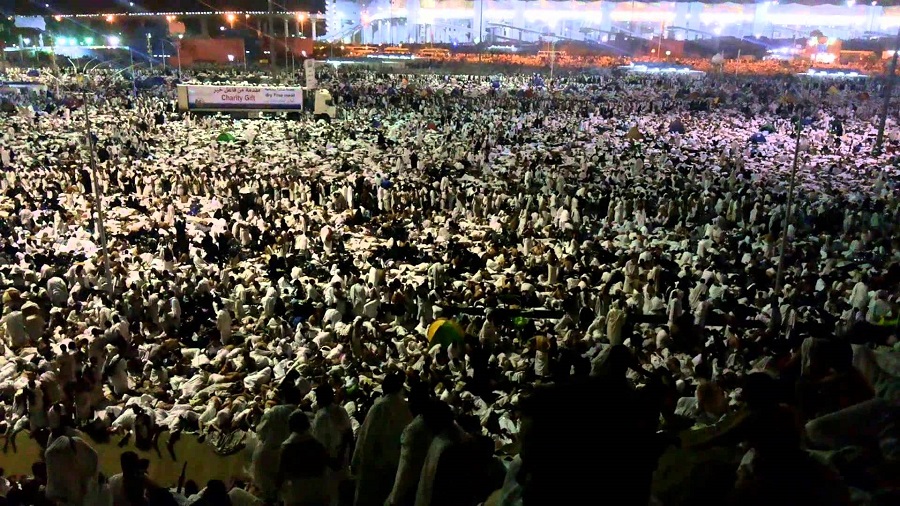 We have now entered the night of 10th Dhul Hijjah (as the next day starts from Maghrib). The pilgrims will spend the night in Muzdalifah, sleeping under the sky! No tents, just the barren land. Wherever you look, people after people; looking for a comfortable area to sleep. Some are equipped with sleeping bags, whilst others just sleep on stones and sand! The last time I went for Hajj, a big rock was my pillow and my Ihram was my blanket. I slept on the roadside too!
Alhamdulillah like many will tell you; this was my best sleep ever! It's a very different feeling and again, many will be away from their comfort zone. This is a blessed and virtuous time so the pilgrims will either be engaged in worship or resting for the busiest day ahead.
The pilgrims here will collect at least 70 pea-sized stones to pelt the Jamarat in the next three days. It's so amazing that millions of pilgrims are able to collect yet there still seems to be so many! If we say there are 2 million pilgrims performing Hajj, that's around 140 million stones just in Muzdalifah!
Day 3: 10th Dhul Hijjah – Jamarat, Qurbani, Tawaf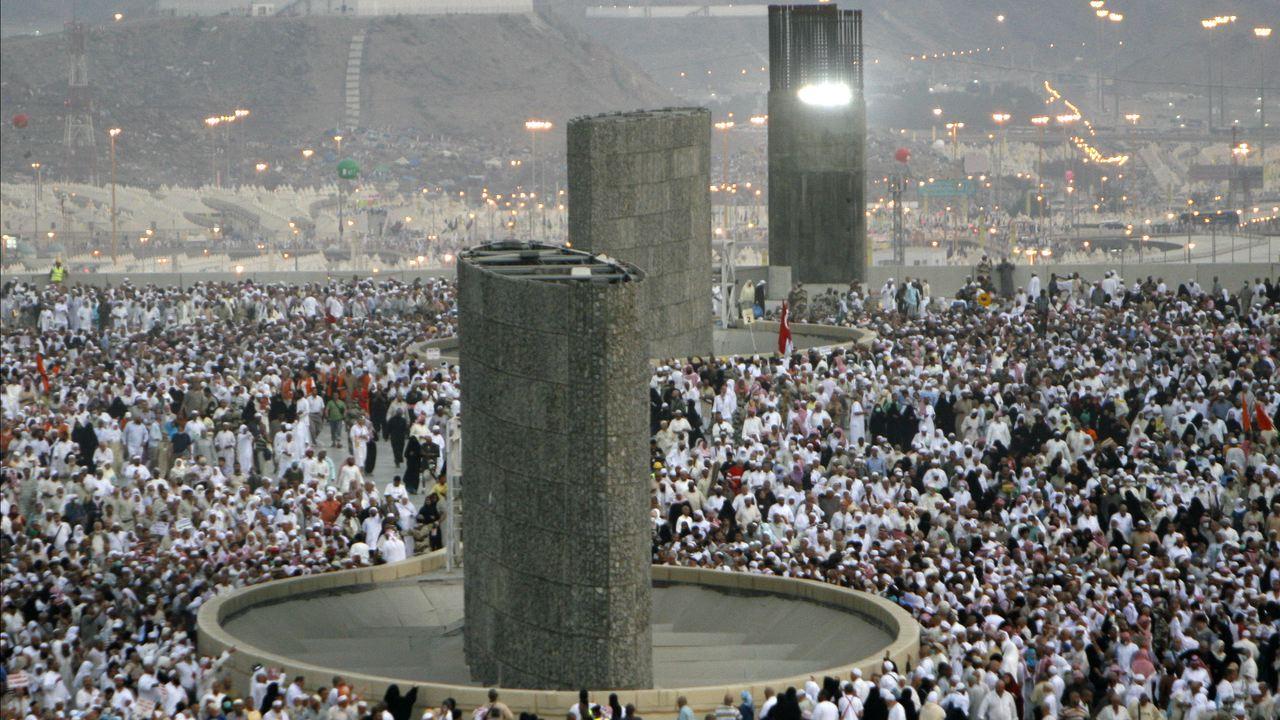 The busiest day of Hajj is today! The Pilgrims will wake up, pray their Fajr and head back to Mina. There are a few things to do today:
Jamarat: Previously it used to be a pillar but due to safety concerns it is now a large wall. The Jamarat has around 5 floors, making it very easy to pelt. They will first head to the Jamarat Bridge and using 7 stones from the ones they collected in Muzdalifah; they will pelt the 'Large' wall, the last one amongst the three Walls.
Qurbani: Some pilgrims will go back to their tent in Mina to await the news of their Qurbani, whilst others will head to Makkah. Once the news has come, they will head over to the barbers and shave their head. Women will have a small amount of their hair cut. This will now allow them to come out of the state of Ihram (except restriction on romance and maritial relationship, which will be lifted after Tawaf Ziyarah is completed).
Tawaf Ziyarah and Sa'i: The pilgrims will then head for Makkah to perform Tawaf and Sa'i. Tawaf is going round the Ka'bah seven times; once again the experience in indescribable. Keeping their left side to the Ka'bah, as if ones heart is closest to the Ka'bah at that point!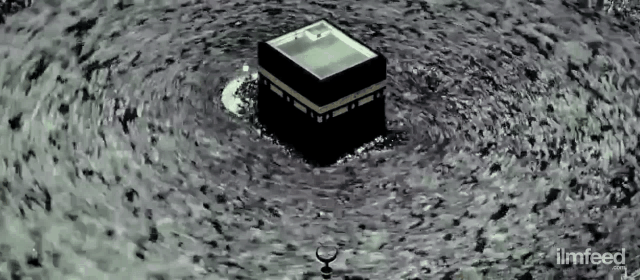 After performing Tawaf, they will head over to the Masa' area where the two hills Safa and Marwa are located. Here they will walk between the mountains, in commemoration of Hajar  the mother of Prophet Ismail (peace be upon them). Once again it's seven times. Men will jog between the green lights.
(Note some pilgrims may delay Tawaf Ziyarah till the next day or the day after due to the large crowds).
Having completing the rituals, it concludes the 3rd day of the blessed journey. The pilgrims will then head back to Mina to have some well deserved sleep! (The elderly and ill may choose to stay in Makkah/Aziziya due to exhaustion or tiredness).
Day 4: 11th Dhul Hijjah – Jamarat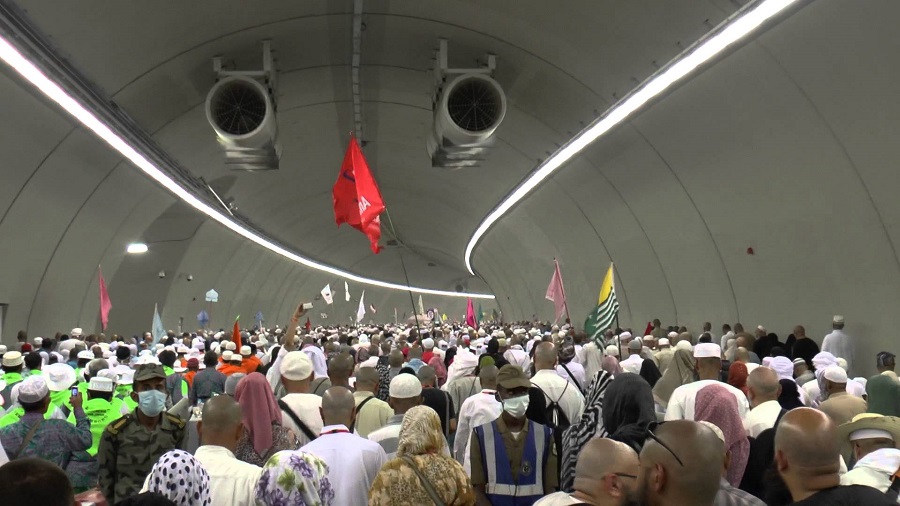 Once again the pilgrims will visit the Jamarat. From Mina, many Hujjaj who are from Europe will most likely have to travel through two or three tunnels (depending on where their Mina tents are located). These tunnels are just like the ones we go through with our cars, except there are no cars!
Once they come out to the Jamarat Bridge, the pilgrims will be led by the authorities towards the least congested areas to pelt the walls. As mentioned earlier, there are around five floors, with escalators, making it very easy to pelt.
Today they will pelt all three walls, seven on each. After each wall they make a short dua and move onto the next.
Having finished pelting, they will go back to Mina, to continue to their individual worship or to rest.
(Those who have not done their Tawaf Ziyara and Sa'i may do it on this day)
Day 5: 12th Dhul Hijjah – Jamarat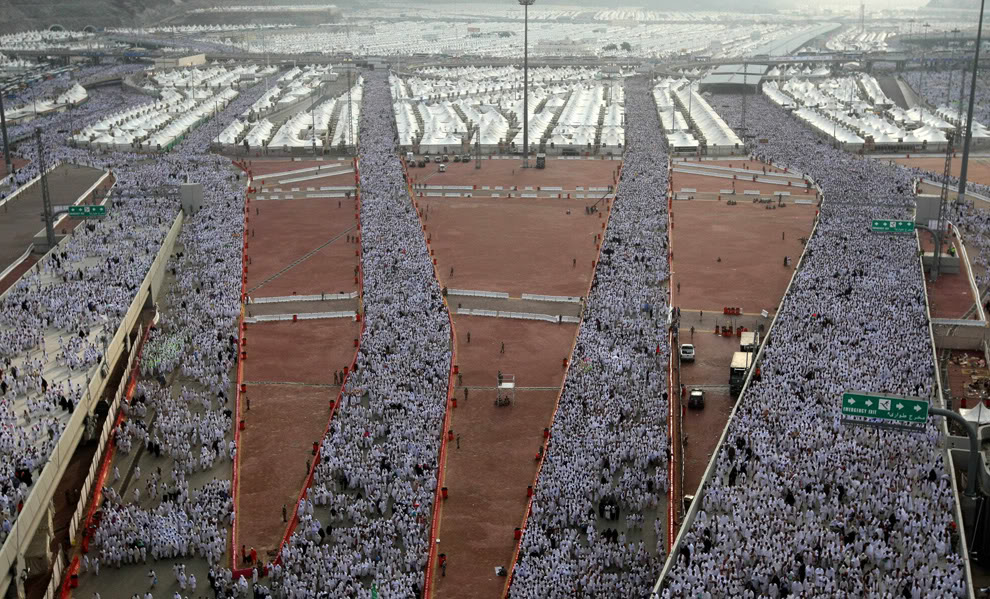 This is the last day, unless some pilgrims stay after Fajr the next day. Once again the pilgrims will visit the Jamarat and repeat the day before they will pelt the three walls. It is said that when Prophet Ibrahim (peace be upon him) took his son Prophet Ismail (peace be upon him) to be sacrificed (which was then replaced by a ram), Satan tried to distract him from doing so. Prophet Ibrahim was being tested by Allah, so he took hold of some stones and pelted him! Hence pilgrims symbolically commemorate this act and pelt the walls. The pelting teaches us to 'pelt' Satan when he tries to distract us away from Allah all-mighty.
Hajj Completed!
This now concludes the Hajj, the journey of a lifetime. Last time when we finished pelting, my Mum hugged me and my brother. We had just completed an obligation set by Allah, why wouldn't one be emotionally joyful about it. Ya Allah accept the Hajj of all those who have performed it this year and Ya Allah allow others to undertake this beautiful act of worship. Aameen
By Mujib Abdur Rahman