It was late at night when a family from Malaysia had arrived in London. Adnan Mohamad and Sunita Arafat had travelled to the UK's capital city along with their three young children to spend a few days sightseeing and enjoy a much needed break
After having travelled for over 24 hours due to a long transit in Amsterdam they had finally reached their hotel which they had booked online in Malaysia. Their children were tired and two of their daughters were feeling vomiting as they had fallen ill. They could not wait to check in and have some rest.
When they reached their hotel, they were horrified. They had booked a room for four people however what they were given was a dorm with thirty people mixed with both male and female. It was not suitable for a family and there was nothing they could do.
So they decided to look for another hotel. It was a cold Saturday night, they were tired, and were now wandering around an unknown city with their children and luggages desperately searching for a hotel.
To make matters worse, hotel after hotel told them that they were fully booked.
They really just needed somewhere to rest until they could somehow find a place to stay so they decided to look for a mosque. As they were walking along the road they saw three Muslim men. At first they weren't sure if they should ask them for directions to the nearest mosque but Adnan thought that they looked like approachable so they decided to ask them for directions.
They were informed that all the mosques were closed but offered to help them find a hotel after learning about their situation.
The three men were from the charity Human Aid and were on their way to collect some donations for Syria and had just parked up their van. They told the Malaysian couple to put their children in the van as it was really cold and started to call nearby hotels trying to find a room.
Sadly, there was nothing available and a sense of despair started to fill the hearts of the couple.
In that moment, one of the three men, Sohidul, offered them to stay in his house in East London. The couple did not expect this and Sonita began to cry.
Sohidul then booked a taxi for the couple and accompanied them back to his home. The other two men, Aminur Rahman and Imam Yayha continued their work.
When they reached his home, Sohidul's wife had prepared their beds and they were made to feel welcome with tea and food.
The next day, Sohidul booked them a hotel and advised them about which buses to take for the different landmarks they wanted to see.
"We owe them so much…I would never be able to pay them back" says Sunita as she recalls the brotherhood and generosity showed to them by her bothers in Islam.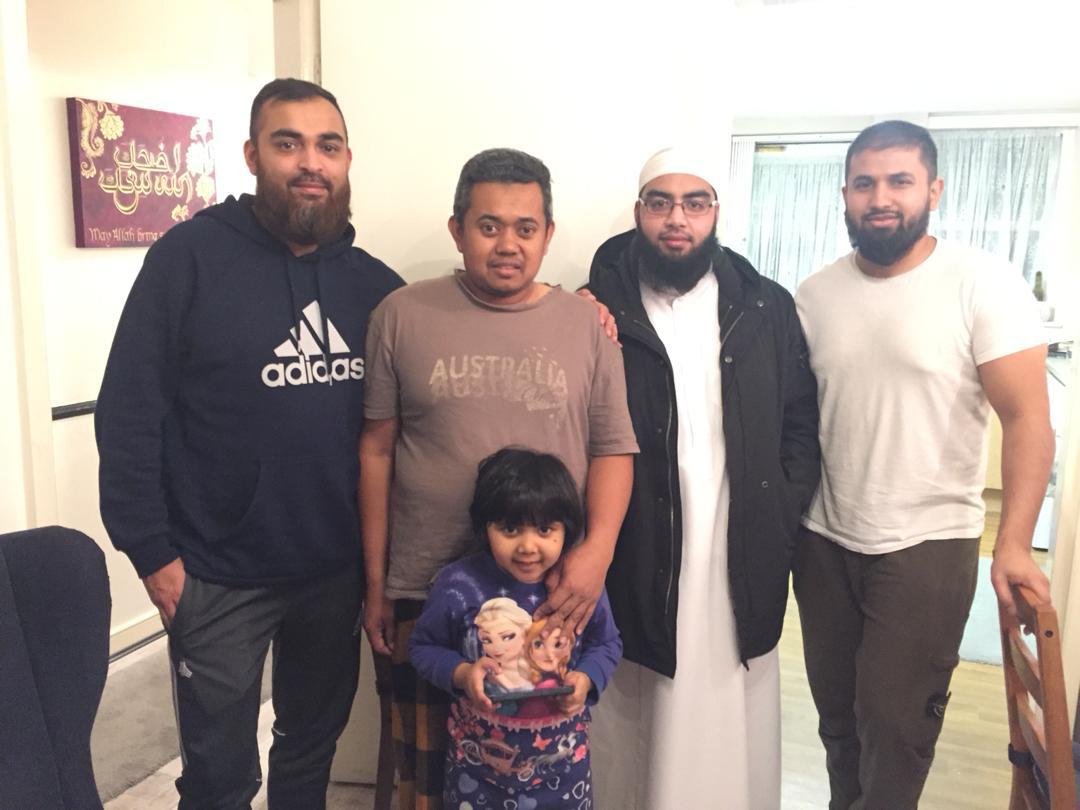 "It doesn't matter which country you're from, we are brothers. Help someone in the time of difficulty and Allah will help you in your time of difficulty" says Aminur.
"Even if they were non Muslims from a different country and they needed help, we would still help them, that's what our religion teaches us." he adds.
Abu Huraira reported: The Messenger of Allah, peace and blessings be upon him, said, "Whoever relieves the hardship of a believer in this world, Allah will relieve his hardship on the Day of Resurrection. Whoever helps ease one in difficulty, Allah will make it easy for him in this world and in the Hereafter. Whoever conceals the faults of a Muslim, Allah will conceal his faults in this world and in the Hereafter. Allah helps the servant as long as he helps his brother. Whoever travels a path in search of knowledge, Allah will make easy for him a path to Paradise, for a people do not gather together in the houses of Allah, reciting the book of Allah and studying it together, but that tranquillity will descend upon them, mercy will cover them, angels will surround them, and Allah will mention them to those near Him. Whoever is slow to good deeds will not be hastened by his lineage." Sahih Muslim