Thousands have tweeted with the hashtag #IMarchWithLinda in support of Muslim activist Linda Sarsour who has been subjected to Islamophobic abuse. The online abuse began after a women's march took place against Donald Trump which she helped organize.
Linda has been falsely accused of being anti-American, anti-Jew and a supporter of terrorists among other things.
A photo showing Linda holding up her index finger is being used by Islamophobes as 'evidence' that she is a supporter of ISIS: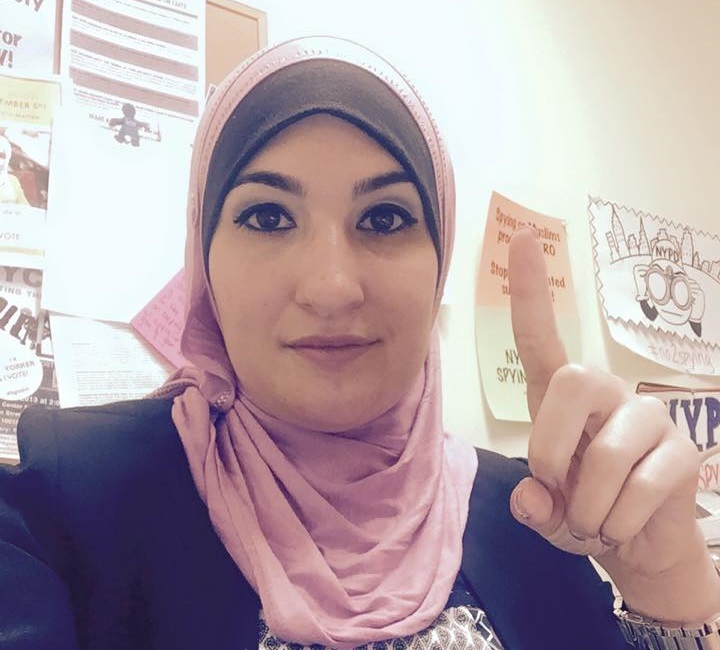 The fact is, the one-finger gesture is used by Muslims around the world as a symbol proclaiming the Oneness of God. While it is true that ISIS fighters have been seen using the same 'one-finger salute' in propaganda photos and videos, Muslims have been using their index finger to proclaim the Oneness of God for centuries, long before ISIS even came into existence. The index finger is also lifted when Muslims pray their five daily prayers.
Following the abuse, Linda posted the following message on Facebook calling on people to stand with her:
And stand with her they did, by Monday afternoon (US time), #IMarchWithLinda was trending.
 
Here are just some tweets which were posted in support of Linda:
#IMarchWithLinda because she is an inspiration for the kind of leadership this country needs. Compassionate, selfless, loving and inclusive. pic.twitter.com/dqTmu8v66Y

— Russell Simmons (@UncleRUSH) January 23, 2017
#IMarchWithLinda because I've known her to march with anyone in need. Shouldn't these trolls be busy making America great again? @lsarsour

— Omar Suleiman (@omarsuleiman504) January 23, 2017
The attacks on @lsarsour – just like attacks on @keithellison are a snippet of what it's like to be Muslim in public life. #IMarchWithLinda

— Imraan Siddiqi (@imraansiddiqi) January 23, 2017
Islamophobes have been attacking #WomensMarch organizer @lsarsour. We stand with her against this type of hate and bigotry. #IMarchWithLinda

— Southern Poverty Law Center (@splcenter) January 23, 2017
#IMarchWithLinda because @lsarsour embodies the spirit of a true activist. Stand up against hateful rhetoric. Do not let fear win. pic.twitter.com/IVR8Erbabn

— Amnesty International (@amnestyusa) January 23, 2017
When they come for @lsarsour, they come for all of us. #IMarchWithLinda because we cannot let racists define what it means to be an American

— Claire Sandberg (@clairesandberg) January 23, 2017
https://twitter.com/ShaunKing/status/823640073031847939
https://twitter.com/Mummu_Tiamat/status/823616278854148097
#IMarchWithLinda because she fights for our Jewish community, all women & all people with fierce love. You come for her you come for us all.

— Jews for Racial & Economic Justice (@JFREJNYC) January 23, 2017
A crowdfunder has also been started by LaunchGood to send her on vacation so that she can 'relax, unwind, and recoup so she can get back to organizing and launching good!'. Click here to support.
A petition has also been set up to show solidarity with Linda.