The Grand Final of the 2nd annual UK Qur'an Memorisation Competition will be taking place in London on Sunday 9th December at the London Islamic Cultural Society, based in Wightman Road in North London. The event is expected to start immediately after Dhuhr prayers (1pm).
A total of 25 finalists will be competing for the 1st, 2nd and 3rd positions in three separate categories respectively (5 Juz, 15 Juz and 30 Juz). Earlier this year, over 200 contestants took part in the regional rounds of the inaugural competition across London, Midlands, Lancashire and Yorkshire. The remaining 25 finalists managed to secure their places in the Grand Final.
The contestants must recite portions of the Qur'an from memory and will be judged by five international and national adjudicators. Contestants will be asked to recite from a selection of portions from anywhere in the Qur'an which they will only told about during the competition.
This annual competition has been organised by the National Huffadh Association UK which was established in 2016 and is the UK's leading organisation in catering for those who are memorizing or have already memorized the Qur'aan. They have over 3,000 Huffadh registered on their database and provide a wide range of services for the local and national community.
International guests will attend the event including Mufti Mohammed Wasim Khan (USA), Qari Abdalah Daudi (Tanzania) and Qari Ilyaas Badat (India). The main charity and event partner is Muslim Charity, which is a global organisation who provide relief and educational services around the world.
The 1st, 2nd and 3rd position winners will win cash prizes. The 1st position winner of the 30 Juz category will also win a FREE Umrah prize, which has been generously sponsored by Council of British Hajis UK.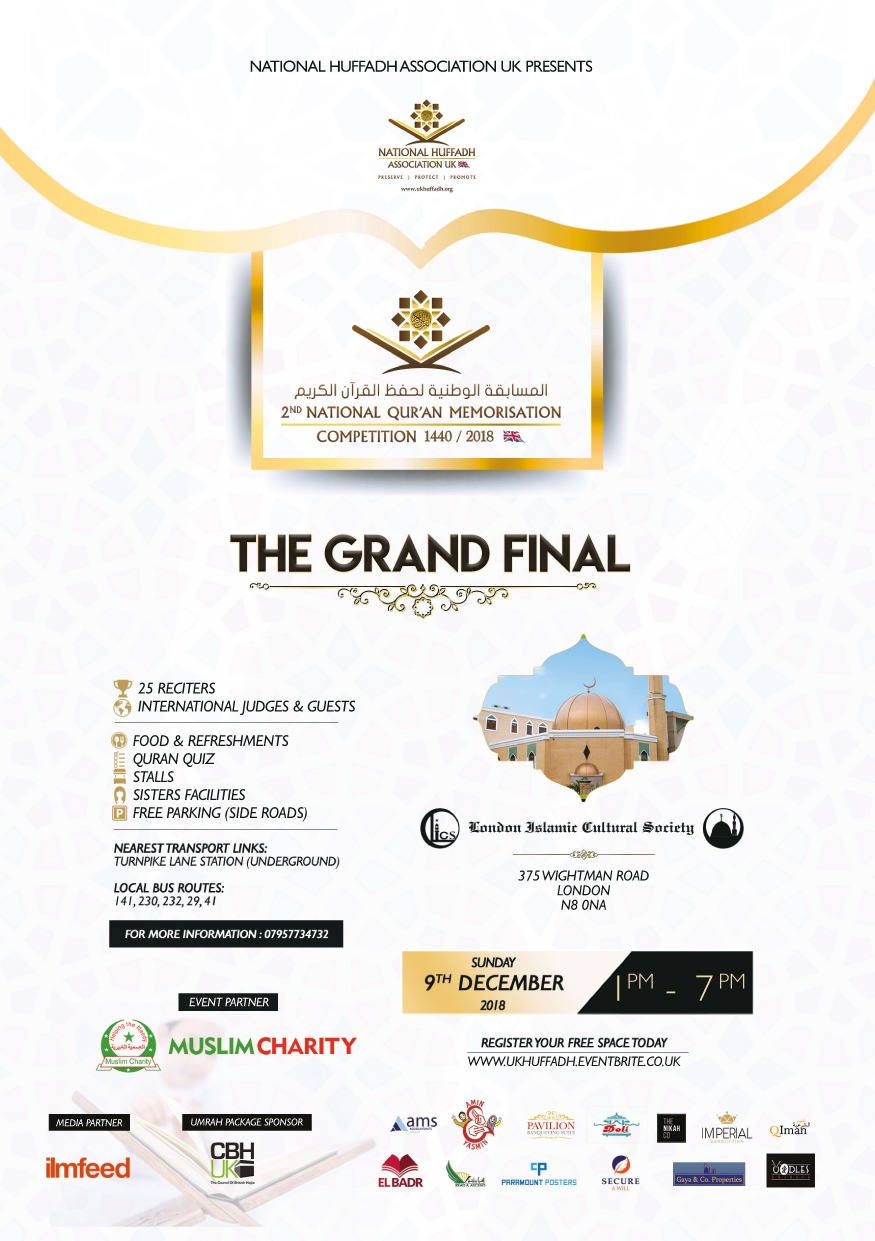 If you'd like to attend, register free here.
The event will be streamed live on IlmFeed's Facebook page. Make sure you tune in from 1pm GMT.