The ice bucket challenge designed to raise awareness for the ALS disease has in recent weeks gone viral with thousands of people around the world including celebrities taking turns to drench themselves with a bucket filled with ice-water and nominating their friends and family to do the same. With all this attention given to ice-bucket challengers, let's not forget the heroes working behind the scenes searching for cures to diseases like ALS.
One such hero is 64-year-old Muslim neurologist, Dr. Teepu Siddique who has devoted much of his adult life (over 30 years) trying to understand and find a cure for the ALS disease. ALS (Amyotrophic lateral sclerosis) renders the muscles of the body useless while leaving the mind unaffected. There is currently no effective treatment or cure for ALS. 450,000 people worldwide are thought to be suffering from the condition.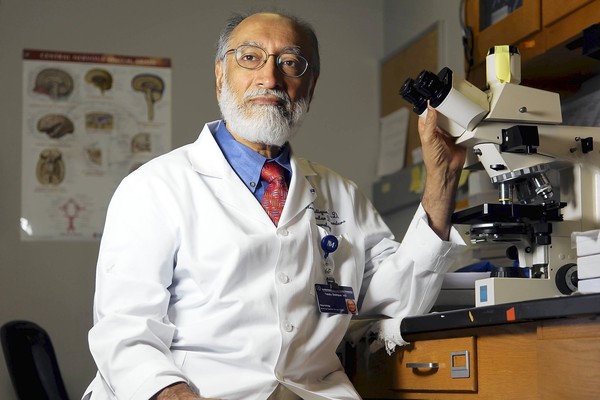 Photo: Chicago Tribune
In 2011, through his research, Dr. Teepu and his research team made the most monumental discovery to date in ALS research, identifying the cause of ALS which opened new doors for finding an effective treatment and a cure. 
He describes what has motivated him to dedicate his life to finding a cure for ALS:
"ALS has a very tragic outcome," … "It's like being jailed in your own body. It's an example of the overall human condition of futility and helplessness. That is the philosophic and humanistic underpinning of my interest in this disease."
May Allah reward him for his efforts and give him success in finding a cure.