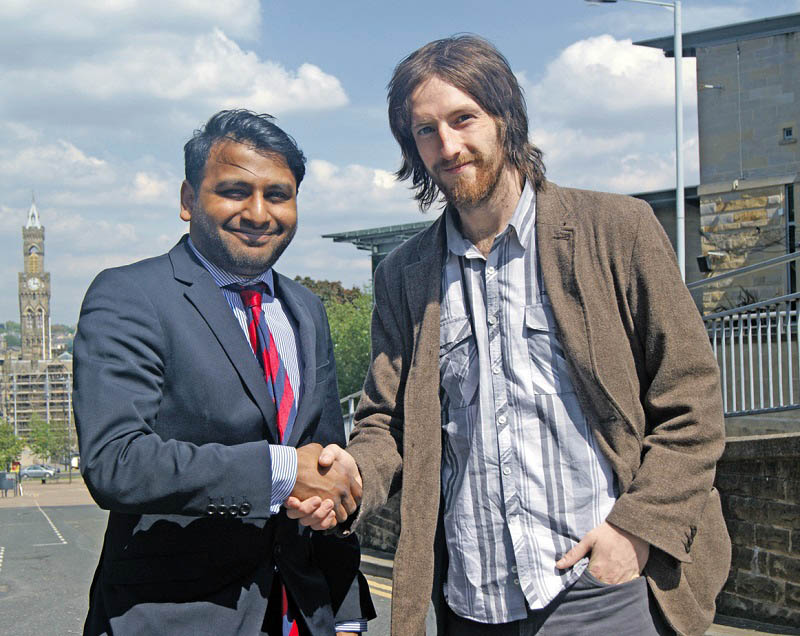 Photo: Asian Express
Aminur Chowdhury from Bradford, England was racially abused by homeless man Ben Gallon but rather than throw insults back, Aminur decided to engage in conversation with him and invited him to have a drink.
Aminur says: "Initially I turned the other cheek but then I was challenging Ben about what he had said to me, I stopped and had a chat with him for about 15 minutes."
After speaking to Ben, Aminur said he can help him find a job and the pair exchanged contact details. Initially Ben thought he was only being polite about the job offer but he says he got a call from him the next day with a job interview at his friend's business:
"The next day he gave me a call, said 'can I come pick you up Ben, I've got an interview for you'. That same day, he came round to get me, drove me down to the place on Canal Road and then within ten minutes I had been offered the job."
Aminur didn't stop there, he also helped him find an apartment to rent in Bradford.
Ben, now regretting his actions says:
"There was no justification for me using those words.. Kudos to him for forgiving me, I regret it. A positive thing has happened out of this situation."

"I've learned my lesson. What I said was completely out of character for me, I'm not a racist."

"Things are starting to look up for me. I've started the job and it's fantastic."
Aminur explains what motivated him to respond the way he did:
"I was targeted for racist abuse but a great way of overcoming racism is to show some tolerance…I realise I can't put the world to rights but I can try to educate people."

"This is a great way of teaching Asian people across Bradford of how to respond to racism. The more love you show, the more endeared they will be to you,".
Some of the worst racially aggravated riots took place in Bradford in 2001 between the large and growing British Asian communities and the city's white majority, which resulted in 300 police officers being hurt and 297 arrests being made. Both men now hope this positive story helps improves the relations of different races and people of religions in the community.
This story is indeed a great lesson for us all and highlights the best way of winning people's hearts – good character. The prophet Muhammad (peace be upon him) also won people over with his good character and many people went onto embrace Islam because of that.