"…Whoever saves one – it is as if he had saved mankind entirely."
Many Muslims are familiar with this teaching from the Qur'an, but not nearly as many of us have the opportunity to act upon it in our lives.
But this man did.
When a fire started in his neighbours' house, Ruhul Khan, bravely entered the house to save the parents and their disabled children that were inside.
Following the incident, the family shared a letter in gratitude with Ruhul, which he shared on social media.
Transcript below letter.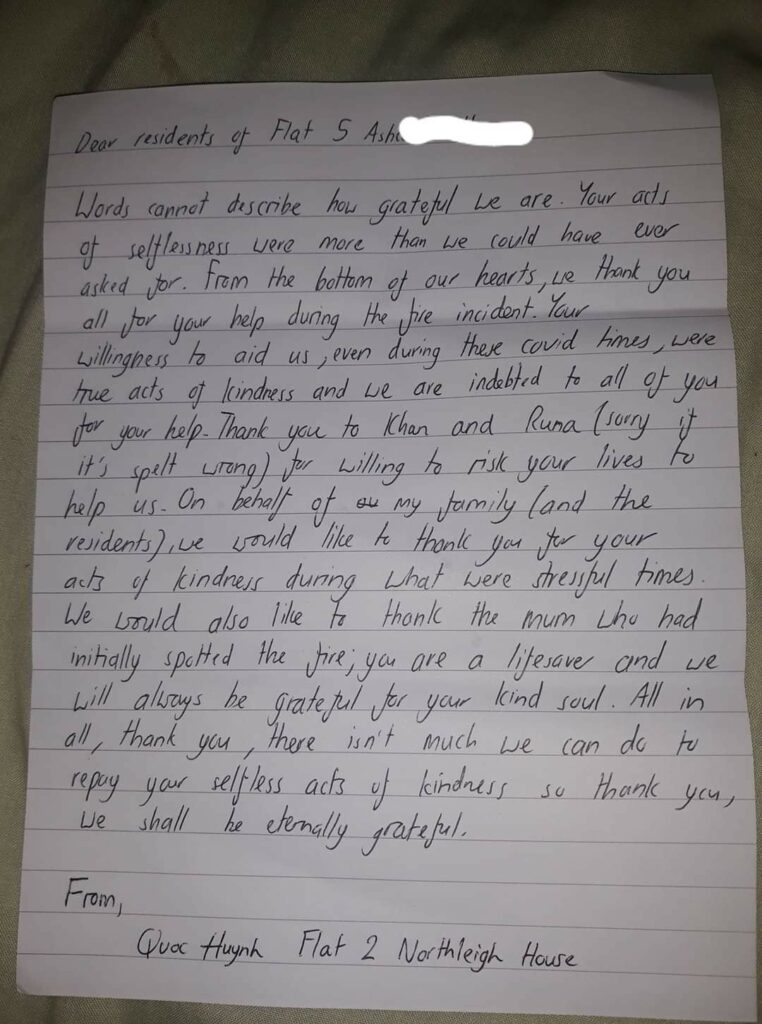 "Words cannot describe how grateful we are. Your acts of selflessness were more than we could have ever asked for.
"From the bottom of our hearts, we thank you all for your help during the fire incident.
Your willingness to help up, even during these Covid times, were true acts of kindness, and we are indebted to all of you for your help.
"Thank you to Khan and Ruma (sorry if it's spelt wrong) for willing to risk your lives to help us.
"On behalf of my family (and the residents), we would like to thank you for your acts of kindness during what were stressful times.
"We would also like to thank the mum who had initially spotted the fire; you are a lifesaver and we will always be grateful for your kind soul.
"All in all, thank you, there isn't much more we can do to repay your selfless acts of kindness so thank you, we shall be eternally grateful."
Ruhul doesn't believe his act was particularly heroic, but rather something all of us should be willing to do for other people.
He wrote on Facebook: "I'm a big believer in acts of kindness, no matter how big or small. It's my duty to serve neighbors, protect my community and it's people." (sic)