Dylon Hubbarb from Dewsbury, England shared the following photo showing a Muslim man helping a complete stranger with her shopping: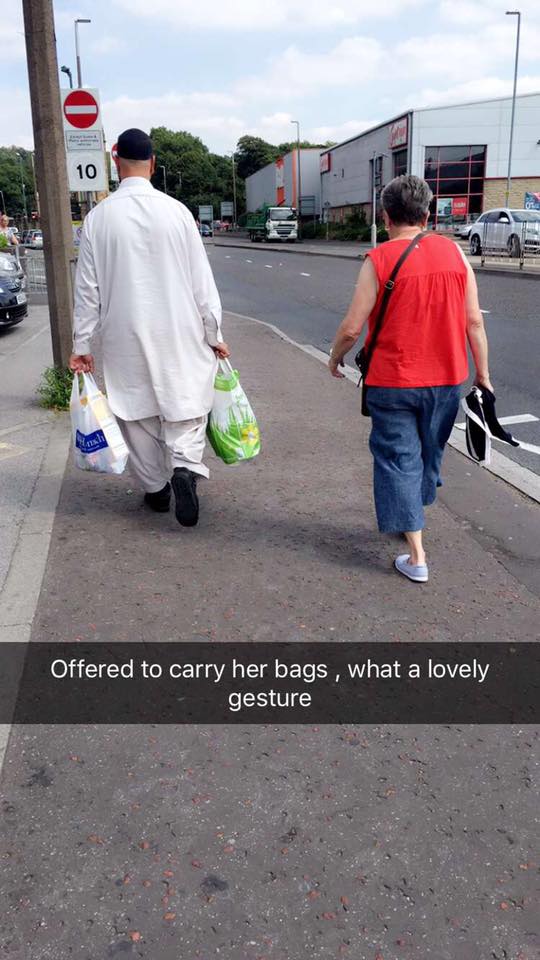 Facebook / Dylon Hubbard
With the photo he wrote:
Well this hasn't half put me in a good mood , so coming out of Asda about to cross the road , as this man approaches this woman asking her if she needed help with carrying her bags and where too. He carried them all the way to her bus station stop for her and even found out what bus she needed to get as she also wasn't sure ! I guess it's just nice to see something positive in Dewsbury for a change. Respect to this gentleman ??
It has since been liked nearly 3,000 times and shared hundreds of times.
People left many positive comments about the man's actions:
Barbara and Michelle described the man as a 'gentleman':
Lynn thought it was a 'thoughtful' act:
Carol said we should all try to do a good deed everyday:
Stefan and Zuber asked why the mainstream media did not show more positive stories about Muslims like this:
Let's all follow the example of this man and try to do small acts of kindness everyday.