Learning the Qur'an by heart has been a long tradition in Bosnia and Herzegovina. In order to receive a diploma for completing the memorization of the Qur'an in Bosnia, candidates have to be able to recite the entire Qur'an by heart in no less than 15 days, reciting a minimum of 2 juzz (parts) in one sitting.
The first phase of memorizing starts by learning from a teacher. Since the memorization of the Qur'an is extremely demanding and requires many hours and days reading and revising, every student who wants to be successful must have a mentor, a skilled teacher. A 'Muhaffiz' is a person who has learned the Qu'ran by heart, his knowledge and advice directs the future guardians of the Qur'an and facilitates their learning process.
The second phase is strong revision which takes place every day. In Bosnia, after the student has finished memorizing in front of a teacher, he starts a thorough revision cycle in order to strengthen his 'hifz'.
The third phase is a memorization test; candidates have to recite the entire Qur'an by heart in front of the Commission for Hifz of the Islamic Community in Bosnia. The commission consists of seven experts, all of whom are strong huffaz. The exam consists of candidates reciting every day at least 2 juzz (40 pages) of the Quran, completing the entire recital from memory in 15 days. 361 candidates have passed the exam in the last thirty years.
In 2014, Ahmed Hamidović became the youngest hafiz of the Qur'an in Bosnia. He was born in Sarajevo sixteen years ago. He attended the primary school "Aleksa Santic" in Sarajevo, and is currently a student of second grade at the Gazi Husrev-Bey Madrasa (Islamic secondary school) in Sarajevo. He lives with his father, mother, brother and sister.
With the help and encouragement of his mother, Ahmed learned the Arabic alphabet at the age of four and a half, and began memorization at the age of five. He learned most of the Qur'an from his mother.
He had three teachers. His first muhaffiz was Sabiha Hasković. For each completed juzz, he received a diploma and appropriate gift. After her marriage and departure from Bosnia, Ahmed continued to learn from Qari Hafiz Ammar Sadik (Abu Humejd).
Ahmed completed memorising the Qur'an in the year 2012, and started to prepare for reciting in front of the Commission. Preparation and revision took another year and a half, with Hafiz Alija Rahman. He successfully recited the entire Qur'an in front of the Commission in the year 2014, and became the youngest hafiz from Bosnia at that time. He regularly takes part in Qur'an competitions and has won numerous awards.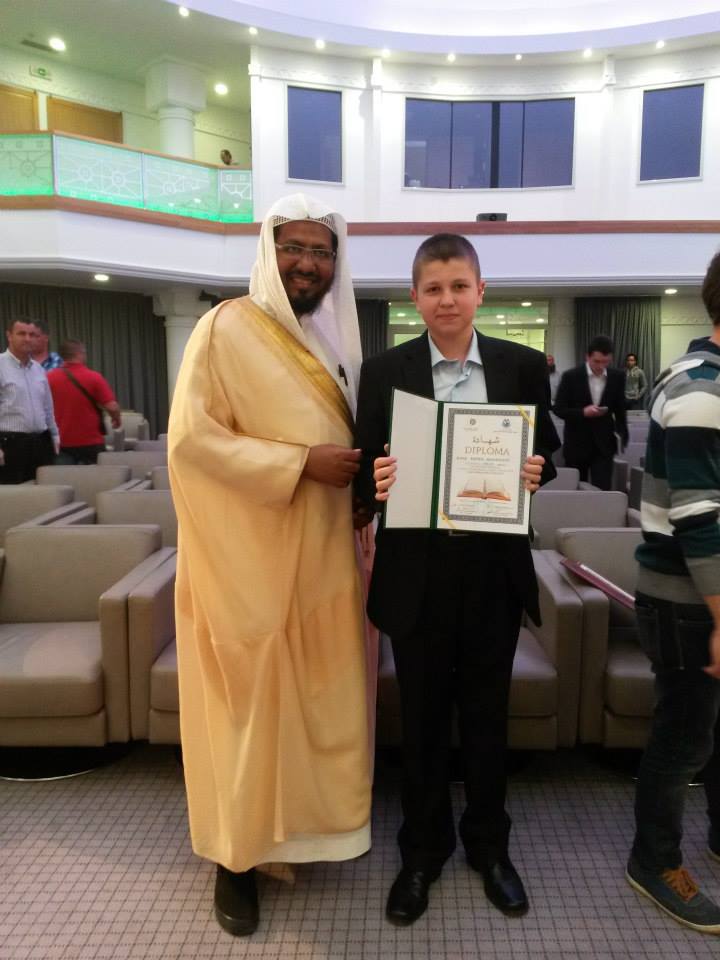 Ahmed reflects upon his journey: "For every serious business in life, we should make time and have a plan, taking into account free time for entertainment and rest. The Qur'an was always a priority number one for me, and eventually I learned more and more. I would advise others to listen to their parents, recite the Qur'an and to love Allah. As for my future plans, Allah knows best, but my wish is to perfect my hifz, to live by the Qur'an and work by it. The average daily time for my learning was 3-4 hours, including repetition. When I was making preparations for the Commission I recited and revised 10 to 14 hours a day."
Author: Nedim Botić
Help IlmFeed publish more stories like this.
Like our Facebook page: